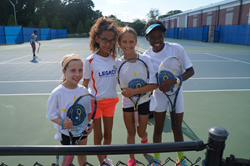 New York, NY (PRWEB) June 24, 2015
Israel Tennis Centers (ITC) and Legacy Youth Tennis and Education announced formal plans for teams of children from Israel and Philadelphia to participate in a cross-cultural exchange program in July and August.
The initiative brings together small groups of young tennis players from the Israel Tennis Centers and Legacy Youth Tennis and Education in a virtual pen pal, tennis and cultural exchange program. Through email writing, photo sharing and live video calls these young tennis players have learned about each other's countries, cultures, tennis strategies and techniques. The program culminates with a select number of participants having the opportunity to travel to their pen pal's country this summer.
It all started during the summer of 2014 with a visit by a group of ITC children to the Legacy facility and continued throughout the past year via an online pen pal program. It has included structured monthly themes with specialized readings and worksheets. Pen pals learn about their peer's family history, cultural history, food, dance, customs and tennis techniques through live video feeds.
Both non-profits share the same important mission of teaching life skills to disadvantaged youth through the medium of tennis. Legacy Youth Tennis and Education has been providing tennis instruction, educational programming and positive opportunities to thousands of Philadelphia children annually since being founded in 1952 as the Philadelphia Tennis Patrons Association. Legacy's program teaches rewarding lessons while building confidence and discipline that will help these young people succeed in life.
Similarly, the Israel Tennis Centers has been improving the lives of Israeli youth of all backgrounds since its first of 14 centers opened in 1976. Through its social impact programs, over 20,000 children from under-resourced areas of the country are served every year, including youth at risk, Russian and Ethiopian immigrants and children with special needs, from autism and ADHD to Down Syndrome as well as those with developmental and physical disabilities. The ITC also brings together children from different religions in coexistence programs, promoting understanding, cooperation and friendship on and off the court.
"This program is a perfect example of our mission of bringing together children from Israel with their peers in other parts of the world to create lasting friendships and understanding," said Jacqueline Glodstein, ITC Vice President/Global Development. "For us, it started with an exchange program involving children from the Arthur Ashe Tennis Center in Soweto, South Africa, and has continued this past year with our friends at Legacy. It is what our 'Children-to-Children Tennis Diplomacy Program' is all about, creating legions of good will ambassadors for Israel… beyond tennis and beyond borders."
Visits by the Philadelphia team to Israel and from the Israeli team to Philadelphia will include home stays with families, participation in tennis camps, visiting and learning about each nation's important historical sites. The depth of the program demonstrates both organizations' commitment to empowering young people, especially those from under-resourced families and communities, to achieve success as individuals and as active, responsible citizens through innovative tennis, education, life skills, and leadership development programming.
For more information, contact Richard Weber at rweber@israeltenniscenters.org or 212-784-9202, or Ben Hirsh at BHirsh@legacyyte.org or 215-487-3477. You can also visit the organizations' websites at http://www.israeltenniscenters.org and http://www.legacyyte.org.
About Legacy Youth Tennis and Education
Legacy Youth Tennis and Education (http://www.LegacyYTE.org) is a tennis-based youth development program that prepares young people, especially those from under-resourced families and communities, for success as individuals and as active, responsible citizens. It does so through an innovative tennis, education, life skills, and leadership development model. Legacy Youth Tennis and Education, through programming at its 16-court and classroom Center in East Falls (4842 Ridge Ave.) and in more than 40 schools and recreation centers throughout Philadelphia, Camden, Chester, and Ardmore, provides opportunities to thousands of young people, ages 4 to 18 across all levels of tennis and personal development.
About Israel Tennis Centers
The Israel Tennis Centers Foundation (ITC) is a 501 (c) 3 not-for-profit organization that works tirelessly through the medium of sport to enhance the development of Israeli youth. Since opening its first center in Ramat Hasharon in 1976, the ITC has helped over a half million, many of whom come from outlying development towns throughout Israel. The ITC's 14 centers stretch from Kiryat Shmona on the Lebanese border in the North to Beer Sheva bordering the Negev Desert in the South. http://www.israeltenniscenters.org.