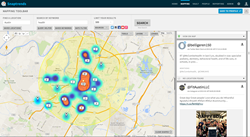 While our software provides advanced security capabilities, we want people to witness how quickly they can learn to use the platform to its maximum potential.
Austin, Texas (PRWEB) June 25, 2015
Snaptrends, the worldwide leader in location-based social intelligence, is excited to announce it will be participating in the National Sports Safety and Security Conference (NCS4) in Orlando, Florida. NCS4 is one of the top athletic security-focused events in the nation and will be held July 6-9 at the Walt Disney World Swan and Dolphin Resort. The show is designed to bring together representatives from the athletic safety and security industry and showcase the latest innovations in technology and practices.
Attendees can stop by the Snaptrends booth (#103) to receive a hands-on demonstration on how the Snaptrends' technology platform can help protect their spectators, athletes, venues and assets beyond standard security measures. Snaptrends' staff members will be present at the booth throughout the Expo portion of the conference. Attendees can arrange a personalized demonstration by calling 512-716-8410. Snaptrends will also be hosting a roundtable discussion about the modern security needs it addresses and how it can help athletic organizations with their advanced security needs.
Snaptrends is a powerful and unique tool that enhances the efforts of security and safety professionals to address facility and event security, spectator and athlete safety, and emergency preparedness. Snaptrends sifts through more geo-specific content than any other solution currently on the market. Organizations can use this capability to identify and hone in on any threats, safety issues or security breaches expressed on various social media platforms, such as Facebook, Instagram and Twitter.
Security personnel from around the globe are successfully using Snaptrends' innovative technology to zero in on chatter and to pinpoint where to most effectively apply security, safety or emergency resources. Snaptrends is a true force multiplier, allowing organizations to harness the power of social media through a variety of means including hashtags, keywords, user handles, and geographic locations.
"We are excited to be participating in the NCS4 show in Orlando this year so we can demonstrate the power and intuitiveness of Snaptrends' technology," says Jeff Croson, senior vice president of Sales and Marketing for Snaptrends. "While our software provides advanced security capabilities, we want people to witness how quickly they can learn to use the platform to its maximum potential. Snaptrends' software is remarkably easy to use and allows our clients to monitor and identify potential threats and safety issues before they become fully realized or investigate incidents that have previously occurred. It's a real game changer for the security industry."
About Snaptrends
Snaptrends takes you inside the conversation, strips away the noise and illuminates the social media relevant to your business, organization or community. This information builds a clear view of social conversations when and where they unfold, the influencers driving those conversations, and why; ultimately giving you the ability to make more informed decisions and take more effective actions.
Founded in 2012, Snaptrends is a private company tucked in "Silicon Hills," the rolling hills surrounding Austin, Texas. At the intersection of two hot industries – cloud-technology and social media, Snaptrends is the leading provider of location-based social insights to organizations worldwide.
###
For Media Contact:
Jessica Sellers
Snaptrends