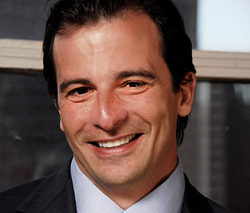 "It's our responsibility to get people inspired to want to do something for the environment and not to judge them if they don't," said Anthony Sblendorio.
Basking Ridge, New Jersey (PRWEB) June 24, 2015
Social entrepreneur Anthony Sblendorio, Founder of Back to Nature, was recently honored by The Willow School for his outstanding contributions to the New Jersey school that has earned acclaim as one of the greenest schools in the United States. Sblendorio, a trustee and Chairperson of the Development Committee, was recognized at the school's annual Green Gala in May.
Sblendorio is a nationally recognized "socialpreneur" who was named Small Business Person of the Year by the Small Business Council of America (SBCA) in 2013. He is one of the pioneers of sustainable and regenerative design. He founded Back to Nature in 1994 with the vision of focusing on ecologically-inspired landscape architecture and design. Sblendorio brought that vision to Willow and inspired the school's founders to develop the school as a model of sustainability. Sblendorio developed the Master Plan for the school's growing campus, including the first LEED Gold certified building in the Northeast, the first LEED Platinum building in New Jersey, and most recently, the largest "Living Building" school project in the United States with Willow's new Health, Wellness & Nutrition Center.
In 2011, Sblendorio opened Back to Nature Home & Garden to further his mission of educating and inspiring homeowners in environmentally-friendly solutions for outdoor spaces. The retail center offers a new take on the traditional garden center with a wholly organic approach, including an event center used to hold educational classes on eco-friendly topics. For that venture, along with his ecologically-focused landscape design and build firm, Sblendorio was named Person of the Year by the SBCA.
Working as a social entrepreneur, Sblendorio has donated thousands of native shade trees and evergreens to local communities for the replenishment of massive losses of vegetation during Superstorm Sandy. Most recently, Back to Nature donated the organic materials to make thousands of seed balls which were thrown into a Basking Ridge, N.J. park to repollinate and beautify the area.
"It's our responsibility to get people inspired to want to do something for the environment and not to judge them if they don't," said Anthony Sblendorio.
Sblendorio taught the first ever Regenerative Planning Studio at New Jersey's Institute of Technology (NJIT), and at Rutgers' Bloustein School of Planning and Public Policy. He has been an invited speaker at the Annual Congress of the Association of New Jersey Environmental Commissions, the U.S. Green Building Council National Conference, and the Meadowlands Commission first Green Summit, among many others. He also provided the first training seminar on regenerative design to the entire staff of the N.J. Department of Environmental Protection (NJDEP) by invitation of the commissioner. Sblendorio is a certified landscape architect, a member of the American Society of Landscape Architects, and a LEED Accredited Professional.
ABOUT BACK TO NATURE
Back to Nature Home & Garden is a premier garden and retail destination with an ecological approach to gardening and environmentally-friendly living. In addition to being a full-service organic nursery, Back to Nature features unique, nature-inspired housewares, decor and gifts, floral services, resources for local, sustainable food, and an event center for hosting educational classes and workshops. The design/build division of the company creates customized regenerative outdoor spaces that inspire reciprocation between people and nature. For more information, call 908-439-4639 or visit: http://www.backtonature.net .
###