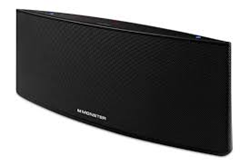 IT'S POWERFUL. IT'S SLEEK. IT'S SEXY.
New York, New York (PRWEB) June 24, 2015
Monster®, the world leader in personal audio, today announces that its breakthrough SoundStage™ wireless music systems are now compatible with the Spotify music streaming service. Spotify Premium subscribers can now instantly access their favorite songs from within the standard Spotify app on their mobile devices or PCs and use Spotify Connect to directly control their music on any of the three Monster SoundStage wireless music system models, including the S1 (SRP $249.95), S2 (SRP $299.95) or S3 (SRP $399.95).
The Monster SoundStage wireless music systems give consumers compelling solutions for bringing Pure Monster Sound™, a proprietary audio signature with extreme clarity, tight articulation and deep pounding bass, to every room in the home via dual wireless technology (both Wi-Fi and Bluetooth®). Advanced technologies engineered by Monster create a sonic sense of space that goes way beyond the size of the speakers and their minimal footprint. All three models have a sleek and ultra-slim design that is neither rectangular, triangular nor boxy, which will appeal to those with a sense of sophisticated style and architectural design. The S3 model also features an elegant leather top surface for an added feel of luxury.
Spotify, the world's most popular streaming service, is an exciting addition to SoundStage as it offers music-lovers the ability to listen to favorites, discover new artists and find the right music for every moment from its library of more than 20 million songs. Those that subscribe to Spotify Premium can control SoundStage systems with their phone or tablet, making these devices their remote controls for hours of listening enjoyment. As Spotify is now built-in to these models, users can still take calls or use other apps, with no interruption to the music. SoundStage owners who would like to try Spotify can do so by taking the free trial at spotify.com/connect.
Head Monster Noel Lee noted: "Spotify is a great partner for us because they think like we do in terms of providing innovative and consumer-friendly ways for people to enjoy premium quality music. We named our system 'SoundStage' because it creates an ideal soundstage for your music that reproduces the excitement and energy of the live music experience. Now, whether they are streaming to one or multiple systems placed in rooms around the house, Spotify offers even more of the music they want at the touch of a button."
Innovative Technologies Set SoundStage Apart from All Competitors
The accumulated expertise of Monster's world-class engineers come together in SoundStage, which features leading-edge technologies. Newly designed front drivers that work together with rear-firing, high-powered bass drivers create a stunningly full and rich sound. Monster used software algorithms to synthesize a larger sound stage (which became the basis for the product name). Among the key innovative technologies in SoundStage is the inclusion of a smart media platform from a major company in the space that allows the system to seamlessly stream high quality local and cloud-based content with high performance Wi-Fi connectivity. AllPlay allows SoundStage users to synchronously stream music to multiple SoundStage speakers (Party mode) or multiple songs to multiple speakers. Additionally, the content streamed can be local or native from within music service apps.
Additional information on Monster SoundStage can be found here: http://www.monsterproducts.com/press-releases/press-detail/2015/01/monster-soundstage-high-definition-wireless-music-system
About Spotify
Spotify is an award-winning digital music service that gives you on-demand access to over 30 million tracks. Our dream is to make all the world's music available instantly to everyone, wherever and whenever you want it. Spotify makes it easier than ever to discover, manage and share music with your friends, while making sure that artists get a fair deal.
Spotify is now available in 58 markets globally with more than 60 million active users, and over 15 million paying subscribers.
Since its launch in Sweden in 2008, Spotify has driven more than US$2bn to rights holders. Spotify is now the second biggest source of digital music revenue for labels in Europe, and the biggest and most successful music streaming service of its kind globally.
Further information
For more information, images, or to contact the team, please head over to our press page at spotify.com.
About Monster
For the past 35 years, Monster® has been a catalyst for innovation and big ideas. Discovering that cables in hi-fi systems influenced the sound, Head Monster Noel Lee developed Monster Cable - an immediate hit. Monster® engineered the sound of Beats® headphones, and has since become the world's leading manufacturer of high-performance headphones, all featuring Pure Monster Sound™ technology. Today, the company offers advanced connectivity solutions for professional musicians, home entertainment, computing, mobile and gaming, as well as high performance AC Power and conditioning products. Monster® continues to lead in innovation with Monster having been granted over 500 Patents and 100 patents pending worldwide, offering more than 5,000 products in over 160 countries. Monster® also prides itself in helping those who are in less-than-fortunate circumstances through Monster Cares. Above all, Monster® does what it does Because The Music Matters.
Explore the world of Monster at http://www.monsterproducts.com. To become a fan of Monster® products, please follow us on Facebook (http://www.facebook.com/monsterproducts) or Twitter (http://www.twitter.com/monsterproducts).
Designated trademarks and brands are the property of their respective owners.