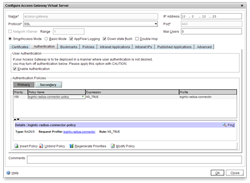 With 'Passthrough', I managed to rollout LoginTC from POC, to pilot, to full deployment (Citrix Administrator)
Ottawa, Ontario (PRWEB) June 24, 2015
Cyphercor Inc. is pleased to announce two-factor authentication support for Citrix NetScaler using LoginTC RADIUS Connector — which simplifies the process by which IT and Cloud administrators can protect access to NetScaler-enabled resources using LoginTC's revolutionary brand of two-factor authentication (2FA).
With the LoginTC RADIUS Connector web-based graphical user interface (GUI), a Cloud or Citrix administrator is expected to take less than one hour to configure and integrate Citrix NetScaler to LoginTC Cloud, augmenting LoginTC's position as the simplest-to-use high security 2FA system in the marketplace today.
Key features of the Citrix NetScaler configuration and integration to LoginTC include:

Mandatory testing and validation at every stage of the integration process.
Enable "Passthrough" to configure which users or AD groups can be challenged with LoginTC, a flexible process to roll out your LoginTC deployment.
Encryption of internal passwords and LoginTC parameters for PCI compliance or as a general best practice.
LoginTC end users can enable their smartphones (iOS, Android, BlackBerry) or desktops (Windows, OS X, Linux) with the LoginTC app, a credential manager downloadable from all mobile marketplaces and the Chrome Web store.
"With this release, we are fulfilling our clients requirements of bolstering Citrix security using LoginTC two-factor authentication," says Diego Matute, CTO of Cyphercor. He continues, "It will give Cloud and Citrix administrators another cyber-security tool in their arsenal against online and remote access threats."
For detailed instructions on how to set up your Citrix NetScaler with LoginTC two-factor authentication: https://www.logintc.com/docs/connectors/citrix-netscaler.html
Or, get started right away: https://www.logintc.com/get-started/
About LoginTC
LoginTC is an enterprise-grade, cloud-based two-factor authentication (2FA) and federation solution that leverages virtualization and mobile investments to complement and protect existing IT practices and infrastructure. It delivers an elegant and supremely secure online experience, simple-to-use and scalable for organizations of any size, without significant costs.
Companies ranging from SMBs to enterprises — including Tagged, Infostrada and Harlequin — as well as government organizations already trust LoginTC. This can be attributed to LoginTC's unique and sought after characteristics: no Personally Identifiable Information (PII), secure remote password (SRP) protocol protection, borderless and safe push notifications rather than SMS, and fraud detection integration with dynamic CONTEXTUAL information for real-time threat alert.
Cyphercor Inc., the developer of LoginTC, is a privately held company headquartered in Ottawa. For more information, visit https://www.logintc.com/.
-30-
For media, investors or other inquiries, please contact:
Hernan Matute
T. 613.592.5800
sales(at)cyphercor(dot)com