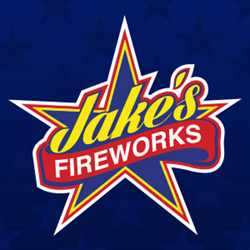 MACON, ATHENS, BUFORD and KENNESAW, Georgia (PRWEB) June 24, 2015
Jake's Fireworks, one of country's largest fireworks wholesaler and retailer, will host five new store grand openings June 26, June 30 and July 1, just in time for the July 4th holiday.
For the first time since Gov. Nathan Deal signed House Bill 110 legalizing the sale of consumer fireworks in Georgia in May, residents and visitors will be able to legally purchase firecrackers, artillery shells, rockets, multiple shot cakes, Roman candles and more, in addition to the tamer sparklers, spinners, fountains and other novelty products that keep younger children happy.
All five Jake's Fireworks stores will open for business July 1st at 8 a.m.
Jake's new Macon on Mercer store located at 3377 Mercer University Drive, will hold its grand opening event June 26th at 11 a.m.
Jake's new Macon on Gray Highway store located at 1406 Gray Highway, will begin its grand opening celebrations June 26th at 3:30 p.m.
Jake's new Athens store, located at 3855 Atlanta Highway, will host a grand opening celebration June 30th at 11 a.m.
Jake's new Buford store, located at 928 Gainesville Highway, will host grand opening festivities June 30th at 3:30 p.m.
Jake's Fireworks in Kennesaw, located at 4299 Bells Ferry Road, will hold grand opening festivities on July 1st beginning at 11 a.m.
All five stores will be giving away Jake's Fireworks t-shirts to the first 50 arrivals. There will also be a raffle at each store, with the winners earning an "early bird" advantage to shop for fireworks at 7:00 a.m. on July 1st—a full hour ahead of the general public. The first early bird customer to checkout will be recognized as the first person in the State of Georgia to buy fireworks legally!
To learn more about Jake's new store openings in Georgia and its full line of fireworks products, 4th of July events and location information, visit the Jake's Georgia website, http://www.JakesFireworks.com/Georgia/
About Jake's:
Jake's Fireworks is one of the largest providers of consumer-grade fireworks in North America, with distribution centers serving nine U.S. states and 250 retail locations. Jake's also offers a huge assortment of fireworks to wholesalers buying for major events, re-sale retailers, and everyday consumers looking to create their own special fireworks display for a local event or family occasion.
For more than 60 years, Jake's Fireworks' Pittsburg, Kansas headquarters has been a fixture in the community, providing services that include standard distribution of world-class fireworks, private label and bulk container orders. Jake's Fireworks is known in the industry as an innovator in consumer fireworks product development, and an enthusiastic supporter of fundraising opportunities, operating its retail fireworks locations for individuals and organizations during peak retail fireworks seasons.
###