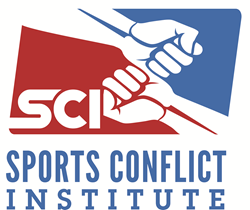 In many respects we are moving towards a more libertarian NCAA, but it's a hard process
Portland, OR (PRWEB) June 27, 2015
Compliance is an area of NCAA sports that most people are either unfamiliar with or see only during major headlines and negative media. In an episode of SCI TV, Brad Barnes, Assistant Director of Athletic Compliance at Texas A&M University, discusses issues in NCAA compliance and shares his perspective on where rules and governance within college athletics are headed.
Barnes has experience in compliance at several universities, from a one person show at Midwestern State University, to the larger but relatively quiet Iowa State University, to his current role at powerhouse Texas A&M University.
So what goes into athletic compliance? Dealing with major infractions makes headlines but is only one aspect. Eligibility concerns dominate the workload in smaller offices and aligning team and university values is important at every level.
"You have to convince people inside and outside that we want to win, but we want to do so within the rules, complying with our institution's values," Barnes said.
Barnes thinks that one of the greatest challenges for institutions is dealing with the consequences of success and winning.
Speaking about Texas A&M football star Johnny Manziel, Barnes says, "Dealing with that level of fame and notoriety definitely increases the amount of issues the institution vis-a-vis the student athlete get exposed to."
Beyond the daily compliance issues, the last year has brought significant attention to the NCAA itself and how college athletics are governed. Changes and legal challenges are in the works that rethink rules around everything from finances to recruiting.
"The NCAA is the membership; it's not the death star hovering over Indianapolis," Barnes said. "It's largely speaking a democracy, so we can work towards changing it."
He sees member universities wanting more latitude to make decisions, being able to make choices rather than following detailed rules.
"In many respects we are moving towards a more libertarian NCAA, but it's a hard process when you have a tradition and history of people wanting a rule that said they had to say no," Barnes says.
Watch the full interview with Brad Barnes at: http://sportsconflict.org/
About SCI
SCI supports competitive goals in athletics through understanding, preventing, and resolving destructive conflict both inside and outside the lines. SCI serves as a knowledge center and provides a range of services to help ensure student-athlete experience is part of a healthy university culture while optimizing performance on and off the field of play. Conflict is inevitable, but how we respond determines whether success follows or costs mount. SCI Founder Joshua Gordon has over 20 years of conflict management experience.