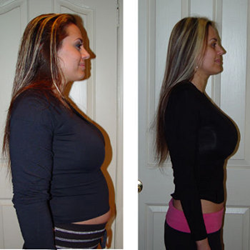 Diet Doc's ketogenic diet plans rely heavily on nutritional science and modern medical understanding, delivering safe and fast weight loss to people of all ages, genders, sizes and shapes.
Los Angeles, CA (PRWEB) June 25, 2015
Telomeres, a protective coating found on the end of chromosomes much like the plastic tip of shoelaces, shield and prevent chromosomes from fraying and sticking together. They are important because they are thought to control the aging process in humans. And, while telomeres naturally shorten with age, it is thought that they tend to shorten more slowly in healthy people. Telomeres that are frayed or shortened by reckless lifestyles can cause cells to die, accelerating the aging process and making the body more vulnerable to shorter lifespans and a higher risk for disease, including heart disease, cancer, stroke and diabetes. Experts agree that consuming a healthy diet, losing excess fat and reducing stress levels can protect telomeres and influence how quickly they are shortened.
Genes involved with metabolism are very adaptable and can change rapidly. Sudden calorie restriction causes them to change their expression to "starvation mode" causing the body to become extraordinarily stingy and efficient about how it burns calories. It tends to conserve calories, storing everything possible as fat. Because dieting fights what the body is trying to do, successfully losing weight by restricting caloric intake can be challenging.
On the other hand, loading with a high fat diet for a few days actually changes gene expression in the opposite direction. A sudden high fat diet causes the body to produce more metabolic enzymes, shifting the metabolism into an "abundance mode." The liver spikes its production of certain enzymes which up-regulates the metabolic pathways in the body to burn fat as fuel. When the high fat in the diet is suddenly taken away, the body can remain in this fat burning state for days. The end result is referred to as an intermittent fasting diet.
The association between dietary intake and telomere length have been examined, with findings suggesting that the most consistent positive influences on maintaining telomere length are fasting and extreme calorie restriction. But, because these types of fasting diets can cause muscle wasting, significant mood changes, declines in hormone levels and electrolytes, as well as other metabolic phenomena, they should always be closely supervised by a doctor who is specially trained in nutritional science and fast weight loss.
Scientists recently examined the potential benefits of eating a "normal" diet for most of the month followed by 5 days of caloric restriction. The study, published in the journal Cell Metabolism, http://www.cell.com/cell-metabolism/abstract/S1550-4131(15)00224-7 showed that this modified low calorie fasting diet had many of the same benefits as a water only fast when the body is properly front-loaded by a ketogenic diet composed of 10 percent protein, 56 percent fat and 34 percent carbohydrates.
Because Diet Doc's diet plans rely heavily on nutritional science and modern medical understanding, they have been able to develop ketogenic diet plans that generate safe, natural and fast weight loss that include meal and snack plans that are tailored to each patient's personal needs, prescription diet products to accelerate weight loss while alleviating dieting side effects and the most modern technology to enable their patients in even the most remote regions of the country to keep the body operating like a well-oiled machine while delivering weight loss at an amazing pace. Diet Doc's staff of weight loss experts monitor each patient's progress via scheduled weekly checkup calls and are available for consultation, questions, concerns and support on an unlimited basis throughout.
New patients can simply call the company or visit http://www.dietdoc.com to complete a health questionnaire and schedule a private online doctor consultation with one of the company's highly trained weight loss doctors. During the consult, the doctor will review the system to uncover and address issues that may be causing weight gain, discuss past unsuccessful weight loss attempts and develop new weight loss methods and goals.
Diet Doc is committed to reaching people in every part of the country and create ketogenic diet plans for those of all ages, genders, shapes and sizes. Call today to schedule a private, no-cost consultation.
About the Company:
Diet Doc Weight Loss is the nation's leader in medical, weight loss offering a full line of prescription medication, doctor, nurse and nutritional coaching support. For over a decade, Diet Doc has produced a sophisticated, doctor designed weight loss program that addresses each individual specific health need to promote fast, safe and long term weight loss.
Diet Doc Contact Information:
Providing care across the USA
Headquarters:
San Diego, CA
(888) 934-4451
Info(at)DietDoc(dot)info
http://www.dietdoc.com
Twitter: https://twitter.com/DietDocMedical
Facebook: DietDocMedicalWeightLoss
Linkedin: https://www.linkedin.com/company/diet-doc-weight-loss?trk=biz-brand-tree-co-logo