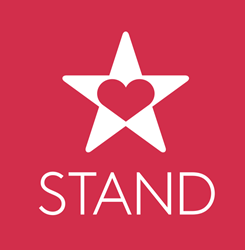 "We are better when we STAND together." - Eric Harr, founder & CEO
San Francisco, CA (PRWEB) June 25, 2015
Today, STAND announced a seed round of $2.25 million led by Resolute Ventures, with participation from Silicon Valley influencers including Jack Dorsey, Twitter/Square; Greylock Discovery (Josh Elman); Fresco Capital (Tytus Michalski and Stephen Forte); Meng Tan, Google; Doug Bowman, former Creative Director at Twitter; Avi Hager, The Regah Group, and Bob Lee, former CTO at Square. Additional angels include Roma Khanna, MGM, Kevin Eyres, LinkedIn, and Debby Hopkins, CITI Ventures. Biz Stone joins as Chairman where he will lend his expertise, network, voice, and vision to help the company realize its global vision.
STAND was founded in 2014 by Eric Harr and Tony Daniel, previously founders of the successful grassroots social movement, Make A Stand, which was inspired by Eric's then eight-year old daughter, Vivienne, and raised $100,000 to end child slavery. Her cause sparked an important lesson: you don't have to be big or powerful to change the world, you just need to stand with others for what you believe in. From there, and thanks to the support and passion of key figures like Biz, STAND was born.
The team behind STAND believes there is tremendous empathy in the world, and they have designed a new product to channel that empathy to create global impact.
"We start with a simple premise: people are good. Individuals give over $200 billion every year, and 95% of families contribute to charity. But the space is fragmented and inefficient," said Eric Harr, cofounder and CEO. "That vast majority of donations come through traditional sources like paper checks. We're going to change that by removing friction all over this space. We're out to crack the code on empathy on a global scale. We're more than a tech company. We're a passion-driven team building a purpose-driven technology."
Vivienne's experience proved the unlimited potential of people raising money and awareness for things they care about. So far, the tools that enable this are limited to drawing people in for one moment in time, mostly in a transactional way, rather than creating an enduring sense of community around what, and who, they care about. STAND was created to make it easy, fun and rewarding to incorporate altruism into people's daily lives. The promise of STAND is to enable anyone to make a difference instantly with a beautiful, easy-to-use mobile app.
Due for release in summer 2015, STAND is a photo-friendly mobile application that puts the individual at the center of the experience, enabling people to discover and connect with others who share their values. If LinkedIn is your professional persona, STAND will be your charitable persona.
"STAND didn't start as a product. It started as a promise that one person can change the world and a business wrapped around that," said Harr. "We saw the magnitude of change that one person created, and we believe that there are millions out there who want to change the world for the better. They just need the right platform. There is no better time in history to answer that need, and STAND is the technology to connect people to each other and causes they care about to create massive, enduring impact in the world."
What People are Saying:
Biz Stone, Chairman: "STAND delivers on the true promise of a connected world—people helping each other. It removes the friction between empathy and action and connects us with people we care about around the causes we love. Everyone needs a chance to be heard, to matter, and to make a positive impact in the world. STAND will be one of the most important apps we've seen in a long time."
Raanan Bar-Cohen, Resolute Ventures: "STAND is incredibly unique and one of the most potentially powerful mobile applications we've seen. Streamlining the crowdfunding experience while broadening its appeal creates the ability to engage hundreds of millions of people in charitable action, a potential that the team at Resolute strongly supports from both a business and philosophical standpoint."
The STAND team is in place and working hard to build a better product from a different kind of company with a singular goal – to create a better world. They are joined by a strong roster of advisors including Katie Stanton, Twitter; Sam Wen, founding engineer, Square; Anamitra Banerji, Foundation Capital; Michael Abbott, Kleiner, Perkins, Caufield & Byers; Dane Howard, former global brand experience at Ebay, Inc.; and Michael O'Neal, known influencer with Instagram and Apple.
To learn more about STAND or sign up for the beta invitation list, please visit http://www.stand.tc.
About STAND Technologies
STAND is a mobile application where you connect with people who inspire you to put your compassion into action. The company has created a social experience to help people find and connect with other people and causes they care about. STAND received seed funding in 2015. For more information on the company or to sign up for the early beta invitation list, please visit http://www.stand.tc.
Find us on social:
Twitter: @STANDthecompany
Facebook: https://www.facebook.com/STANDtheapp
Instagram: @standtheapp
Media Inquiries:
Ashley Seashore
ashley@stand.tc