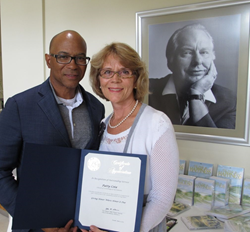 Cleaning up this park and helping to arrange volunteers to keep it clean was a way for me to honor the memory of my parents, I am sure this would have meant a lot to them
Sacramento, CA (PRWEB) June 24, 2015
Volunteers, who are helping the Sacramento community reach goals embodied in World Environment Day, were honored at a recent awards presentation organized by The Way to Happiness Foundation and hosted by the Church of Scientology.
Sacramento Vice Mayor Allen Warren and Phillip Sherman, community services manager for the Downtown Sacramento Partnership (DSP), joined with the hosts in recognizing the volunteers for helping, as the World Environment Day credo describes, "…raise global awareness of environmental issues and to help stimulate political attention, public action, and personal commitment to environmental preservation."
Vice Mayor Warren acknowledged 43 volunteers from the Church of Scientology for their work beautifying city parks, and for other outreach activities including drug education and crime prevention programs. He noted their positive impact on the community as he presented certificates of appreciation to the volunteers.
A special mention went to longtime community activist Patty Cota, and to the President of Church of Scientology of Sacramento, Mike Klagenberg.
Sherman described DSP's program to make the downtown area a safe and vibrant place and acknowledged The Way To Happiness Foundation's work on Partnership-organized programs for cleaning up the city's parks and streets.
Church President Klagenberg spoke of how The Way to Happiness, a nonreligious moral code authored by L. Ron Hubbard and based entirely on common sense, raises awareness and participation in environmental issues.
He played the public service announcement illustrating the precept "Set a Good Example" and spoke of how applying this precept "pays it forward," creating a positive effect on friends, associates and even strangers.
Klagenberg recalled one such personal experience when he noticed trash had piled up in the street around a downtown courthouse. He took it upon himself to pick it up and three other people suddenly joined him. It didn't take long for the four to straighten the place up, leaving it in much better shape.
Klagenberg said setting a good example also related to his reason for adopting a park in the area where he grew up and went to high school.
"Cleaning up this park and helping to arrange volunteers to keep it clean was a way for me to honor the memory of my parents," he said. "I am sure this would have meant a lot to them."
About The Church Of Scientology Sacramento
The Church of Scientology of Sacramento holds frequent open house events, seminars and conferences. Anyone wishing to find out more about Scientology and the Church's humanitarian efforts and the outreach programs it sponsors is welcome to visit the Church's Public Information Center weekdays from 9am to 10pm and weekends from 9am to 6pm.
The Church of Scientology of Sacramento is an Ideal Scientology Organization, located just blocks from the California State Capitol in the former Ramona Hotel, one of the city's most prominent architectural landmarks. With the support of the entire Central California Scientology community, the Church was fully restored and held its grand opening January 28, 2012. The Church was designed with ideal facilities to service Scientologists on their ascent to greater states of spiritual awareness and freedom, and to serve as a home for the entire community and a meeting ground for cooperative efforts to uplift citizens of all denominations. Learn more about the Church of Scientology of Sacramento, here: http://www.scientology-sacramento.org