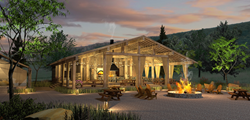 Serving breakfast, lunch and dinner, the timber-framed Campfire Grill features open-air dining, a demonstration-style kitchen, and indoor and outdoor seating.
Garden City, UT (PRWEB) June 25, 2015
Bear Lake's new high-end glamping resort, Conestoga Ranch, is poised to elevate the area's dining scene by introducing Campfire Grill, which will be open to both guests of the resort and the public. Serving breakfast, lunch and dinner, the timber-framed Campfire Grill features open-air dining, a demonstration-style kitchen, and indoor and outdoor seating, the latter arrayed around a large fire pit. Diners can watch chefs grill gourmet pizzas, steaks, chickens, and chicken wings in the kitchen's star attraction—a wood-burning oven.
Bear Lake's abundant outdoor recreation and a big appetite go hand in hand, which is why the chefs at Conestoga Ranch are very particular about the fare served at the resort's onsite restaurant, the Campfire Grill.
"After a day on the lake or trails, families are eager for a delicious meal, but they want something that tastes home-cooked and fresh," says Tom Hedges, one of the resort's founding partners. "Campfire Grill will strike the perfect balance by emphasizing American bistro-style dining in a rustic setting."
In addition to chicken and pizzas, the lunch and dinner menus include seared Atlantic salmon, prime age rib-eye, American-style Kobe burgers, and mac 'n' cheese made with cheddar, smoked gouda, provolone, and add-ons from arugula to skirt steak that diners may select. Carefully selected wine and craft beers are offered.
"The wood-burning oven adds drama and flavor to the foods, but it isn't the only reason our pizzas are so delicious," Hedges notes. "The pizza crust owes its depth of flavor to an Italian-style starter dough, the sauce is made from San Marzano tomatoes, an heirloom variety famed for its sweeter flavor, and the cheeses are premium quality."
Campfire Grill also offers to-go lunches for families that want to enjoy a convenient, chef-prepared picnic during their daytime excursions. As for breakfast, the restaurant serves a full array of morning dishes, including a specialty pizza topped with eggs and pancetta.
"We try to source as many ingredients as possible from local producers," says Hedges. "For example, Bear Lake Beef Company supplies us with rib eye steaks and Kobe-style ground beef. This farm-to-table approach ensures our chefs are working with the freshest ingredients, and it also helps maintain our family-friendly pricing."
Campfire Grill has ample seating that can easily accommodate big family reunions, wedding parties and corporate groups. The restaurant serves breakfast starting at 7:00 am, lunch from 11:30 am to 2:00 pm and dinner from 6:30 to 8:30 pm.
ABOUT CONESTOGA RANCH
Situated along the shores of Bear Lake's magnificent turquoise-blue waters just outside Garden City, Utah, Conestoga Ranch encompasses 18 acres and the ability to accommodate up to 160 guests. The glamping resort is designed to make camping easy, cozy and comfortable. For overnight accommodations, guests can choose from glamping tents, traditional tents and authentically styled conestoga wagons. Each is outfitted with soft beds and fresh linens, and glamping tents feature en suite bathrooms. Resort amenities include a game tent, Main Lodge with private spa-style bathrooms, the Campfire Grill restaurant, shake shack, General Store, activities field and Wi-Fi. Paddleboards and other water recreation equipment are available for rent. For more info, visit http://www.conestogaranch.com.