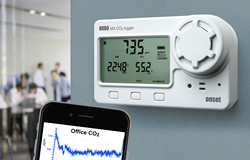 Bourne, MA (PRWEB) June 25, 2015
Onset, a world leader in data loggers, today announced the HOBO® MX1102, the industry's first data logger that records and transmits carbon dioxide (CO2), temperature, and relative humidity data wirelessly to mobile devices via Bluetooth Smart.
Building off the success of Onset's award-winning HOBO MX1101 Bluetooth temperature and humidity logger, the self-contained MX1102 is ideal for indoor air quality studies and environmental monitoring in schools, hospitals, laboratories, and other environments. It measures CO2 over a range of 0 – 5,000 parts per million (ppm) and enables users to access the data from mobile devices within a 100-foot range. There are no cables to deal with, no computer software to install, no devices to pair, and no internet access required.
"The MX1102 sets a new standard for CO2 monitoring by dramatically reducing the time and costs associated with having to connect data loggers to a computer to download the data," said Herman Gustafson, product marketing manager for Onset. "This is a particular advantage in facilities where multiple loggers are being used. And, it makes CO2 monitoring more feasible in applications such as monitoring ventilation systems, where physically downloading data from the logger may be difficult."
Deployment Friendly
Designed for hassle-free deployment, the HOBO MX1102 features an easy-to-read LCD that displays current readings and logger status, and it can run for six months on four, user-replaceable AA batteries. The logger also features an onboard USB port for users who want to configure and offload their CO2 loggers with a computer. This port also provides the option of powering the logger via USB for applications that require more than six months of monitoring or faster logging rates.
Easy setup and data management
Onset's HOBOmobile™ app makes it a snap to configure HOBO MX1102 CO2 loggers and manage the collected data. Using a mobile phone or tablet, users can view data, check the operational status of loggers, share data files and graph images for analysis in Excel, Numbers, and other applications, and store data in the cloud.
HOBOmobile also makes it fast and easy to set up audible alarm notifications so users are immediately notified of problems. For example, if CO2 concentrations in a school go beyond a set threshold, or humidity conditions reach a point where mold could develop, the MX1102 logger will beep and display alarm notifications so users can take corrective action.
Pricing and Availability
The HOBO MX1102 is available immediately from Onset and is priced at $595. Please visit http://www.onsetcomp.com/co2 for complete pricing details and technical specifications or to sign up for a free live webinar to learn more.
ABOUT ONSET
Onset is a leading supplier of data loggers. The company's HOBO data logger and weather station products are used around the world in a broad range of applications, including building energy performance monitoring, water resources management, and ecological and agricultural research. Based on Cape Cod, Massachusetts, Onset has sold more than 2.5 million data loggers since the company's founding in 1981. Visit Onset on the web at http://www.onsetcomp.com.
###
READER CONTACT
Onset Computer Corporation
1-800-564-4377 / 508-759-9500
http://www.onsetcomp.com
sales(at)onsetcomp(dot)com