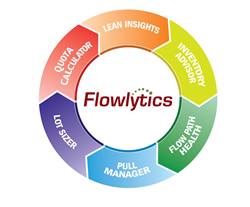 "The Flowlytics Promise Date Finder provides both "capable to promise" and "available to promise" analytics, ensuring both inventory and capacity are available to new customer orders." Tom Knight, CEO of Invistics
Atlanta, Georgia (PRWEB) June 26, 2015
Invistics, the recognized leader in inventory analytics software solutions for high-mix manufacturing companies, today announced the addition of the Promise Date Finder module to its on-demand Flowlytics software suite. The new module allows make-to-order and make-to-stock manufacturing companies to quote reliable, accurate lead times for new customer orders. A customer service representative can use the Promise Date Finder to ensure new orders do not exceed capacity or allocation constraints among their manufacturing locations, so that the business can ship these orders on-time and in-full.
"Manufacturers need to quote accurate and reliable lead times, especially when capacity or inventory is tight and customers require on-time deliveries" says Tom Knight, CEO of Invistics. "The Flowlytics Promise Date Finder provides both "capable to promise" and "available to promise" analytics, ensuring both inventory and capacity are available to new customer orders." he added.
The Flowlytics Promise Date Finder module allows companies to strategically segment their customer base and manage allocated capacity and inventory accordingly, assuring that key strategic customers can be serviced with their expected lead times. Promise Date Finder calculates the available promise date for a new order by taking into account available inventory plus the cumulative bookings and cumulative capacity for the Product Category, Marketing Region, and Customer Group requested. New orders are accepted only when available inventory and/or capacity is sufficient to accept those new orders.
The Flowlytics software suite adds promise date capabilities and advanced analytics for inventory management to more than 250 ERP/MES systems, and can be implemented quickly, even if master data is not 100% accurate. It provides all the tools needed to analyze and optimize inventory levels, and provides the entire organization with a real-time view into the plant floor and across the supply chain. Based on Lean manufacturing principles and key Six Sigma techniques, the Flowlytics suite is available as a hosted solution or implemented at the customer site. Companies using Flowlytics have achieved dramatic, sustained results including more than 99% on-time deliveries, an average reduction of 40% in inventory, and reduction in cycle times by more than half.
About Invistics
Invistics provides cloud-based software solutions and supporting consulting services that help companies achieve the right inventory levels for their supply chain through advanced analytics and actionable insights. Our demand-driven Lean solutions raise profitability by improving flow and increasing customer satisfaction, while reducing cycle times and costs.