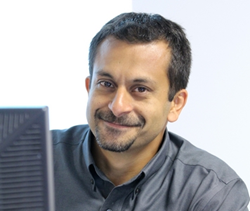 Plainfield, IL (PRWEB) August 04, 2015
Asif Rehmani, SharePoint Server MVP, MCT and CEO of VisualSP, will present two sessions at SharePoint Fest, Seattle.
SharePoint Fest Seattle takes place from August 18-20, 2015, at the Washington State Convention Center. The conference offers technical classes and workshops – taught by Microsoft Certified Trainers, Microsoft engineers and Microsoft MVPs – covering Enterprise Content Management, Power Users, Social SharePoint, Business Value, Implementation/Administration, Office 365, Workflow, Business Intelligence, Special Topics & SharePoint Development. Attendees may choose one complete learning track or mix and match based on what content best meets the organization's current needs.
There's still time to register and receive 25% off registration w/ code Visual-G.
REGISTER->
As part of the conference, Rehmani will deliver two sessions:
Wed. Aug. 19, 2015
1:30 - 2:40 pm: PWR 103 - "No-code options available to power users in Office 365." This session will explore the different no-code development opportunities in the cloud.
Thurs. Aug 20, 2015
3:00 - 4:10 pm: WF 203 - "Create powerful no-code SharePoint Designer 2013 Workflows in Office 365 and on-premise." This session will explore the exciting opportunities to automate your business processes with SharePoint 2013 Workflows without using a single line of code.
In addition, Rehmani's company, VisualSP, will be exhibiting at the conference. Attendees who stop by the booth will be able to tour the company's signature product, the VisualSP Help System. This SharePoint help system provides in-context, on-demand support to users right from the SharePoint ribbon (video tutorials, reference documents, tip sheets and links to other resources). The company also recently launched the VisualSP-App which provides the same kind of inline help and support to SharePoint Online users (Office 365). Attendees are also eligible to win an annual training subscription to VisualSP, where they can access more than 900 SharePoint training tutorials (valued at $200).
About Asif Rehmani
Asif Rehmani is a SharePoint Server MVP, Microsoft Certified Trainer MCT, and Consultant. He has been a speaker on SharePoint topics at several conferences around the world, including Microsoft's TechEd, SharePoint Conference, SPTechCon, SharePoint Connections, Best Practices Conference, SharePoint Saturdays, SharePoint Roadshows and more. He is co-author of the books "Professional SharePoint Designer 2007," "Beginning SharePoint Designer 2010" and "Real World SharePoint 2010" by Wrox publications. @asifrehmani
About VisualSP (formerly SharePoint-Videos.com / Rehmani Consulting)
VisualSP focuses on empowering information workers, technical decision makers, administrators and developers in corporate environments with the SharePoint knowledge they need to be successful. The company, founded by Asif Rehmani, is the creator of the VisualSP Help System, which provides in-context support delivered to users through the Help tab in SharePoint ribbon. VisualSP has been helping drive SharePoint adoption in organizations by exposing Help content such as video tutorials, screenshots and reference documents to the users when they need them. In addition, hundreds of video tutorials are available on the SharePoint-Videos.com site, which empower all SharePoint users to build powerful solutions and use the SharePoint platform effectively. VisualSP.com @sharepointvideo