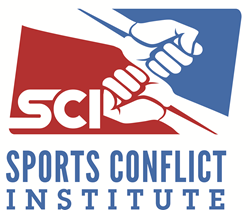 SCI TV goes beyond the headlines to really dissect pressing issues in sports
Portland, OR (PRWEB) June 28, 2015
Part thought leadership and part industry insight, SCI TV has been covering issues in sports with special guests and experts for over two years, recently airing its 75th episode. The show covers current events in sports as well as recurring issues and hot topics such as athlete development, crisis management, locker room culture and hazing, coaching styles, performance enhancing drugs, athlete transitions, NCAA changes, Title IX, and more.
With thoughtful discussion around a variety of sports topics from the collegiate level to the professional ranks, SCI TV hosts leaders from all corners of the industry to share their insights.
Noteworthy guests on SCI TV have included sports writer and Deadspin founder Will Leitch, Boston Globe reporters Joan Vennochi and Joanna Weiss, University of Pennsylvania neuroscientist Anjan Chatterjee, World Paratriathlon Champion Aaron Scheidies, NBA writer Henry Abbott, Cornell University leadership expert Jen Baker, Olympian Nick Symmonds, and University of Missouri professor Scott Brooks.
"We are always looking for guests that have great perspective on current issues in sports and insight to the many niche corners of the industry," said SCI Founder and SCI TV host Joshua Gordon. "SCI TV goes beyond the headlines to really dissect pressing issues in sports."
Recent episodes have covered the changing landscape in NCAA compliance, innovations in athlete mental development, the impact of Title IX and sexual assault for universities, and the public debate around the Boston 2024 Olympic bid.
With a constant stream of changes in the professional leagues and NCAA, there is no shortage of stories to cover. SCI TV will continue to bring a fresh look to these and other stories that impact the world of sports.
Watch the full library of SCI TV episodes at: http://sportsconflict.org/sci-tv/
Listen to the podcasts on iTunes.
About SCI
SCI supports competitive goals in athletics through understanding, preventing, and resolving destructive conflict both inside and outside the lines. SCI serves as a knowledge center and provides a range of services to help ensure student-athlete experience is part of a healthy university culture while optimizing performance on and off the field of play. Conflict is inevitable, but how we respond determines whether success follows or costs mount. SCI Founder Joshua Gordon has over 20 years of conflict management experience.