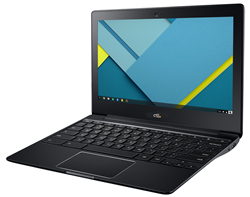 Having utilized CTL products as a site principal, I am thrilled to be leading their professional development efforts to transform how teaching and learning happen in our nation's classrooms.
Philadelphia, PA (PRWEB) June 29, 2015
CTL® announced today from ISTE 2015 that Level 33 Consulting will be a preferred provider for their new Professional Development for Chromebooks program. CTL, manufacturer of education-specific Chromebooks and other 1:1 e-learning devices, is excited to work with qualified education customers to provide onsite professional development for Chrome devices. This service, which will be free-of-charge to education customers meeting certain deployment criteria, has a purchase price starting at $2,500 per day.
CTL's professional development program is the newest addition to CTL's extensive selection of enterprise class services and support, which include White Glove Chrome Device Management provisioning, full color logo painting, Securly web content filtering and analysis, Hapara licenses, Pearson Education Software and much more.
"CTL recognizes that professional development is an important tool that benefits both teachers and students. We're happy to enhance our education solutions with professional development solutions to help teachers maximize classroom technology and keep up-to-date with state and federally-mandated standards and assessments," said Mike Mahanay, CTL's CMO.
With over 20 years in education and communications, Level 33 Consulting has expertise in all facets of organizational development and professional development. Level 33 specializes in designing customized training programs that ensure educators can get the greatest possible benefit from their available technology.
"Having utilized CTL products as a site principal, I am thrilled to be leading their professional development efforts to transform how teaching and learning happen in our nation's classrooms," said Level 33 CEO/President Dave Childers. "High quality professional development is the key to any successful technology initiative, and we could not have found a better partner than CTL to embark upon this exciting work."
Subject matter can be customized and sample topics include 21st Century Instructional Leadership, Digital Citizenship, Google Apps for Education, Common Core Alignment, The Chromebook Classroom, Digital Literacy and more. In addition to in-person trainings, CTL and Level 33 will partner to offer recurring 1-hour educator training online webinars for our education customers. For more information, contact CTL to request a quote and find out how your educational institution can take advantage of this program.
Headquartered in Beaverton, Oregon, CTL provides IT solutions and classroom devices including CTL branded Chromebooks. CTL has partnered with Intel and Google to develop Chromebooks that are rugged enough to withstand the rigors of classroom use, easy to deploy and include student-friendly features. CTL's Chromebook models include: The CTL® Education Chromebook, the CTL® J2 and J4 Chromebook for Education and the CTL H4 Chromebook (coming soon).
About CTL
Founded in 1989, CTL® designs and manufactures computer products including Chromebooks, desktop and mobile workstations, LED Monitors, and high performance servers. CTL® also manufactures specialty devices including ruggedized tablets, slates, and digital sign solutions. Headquartered in Beaverton, Oregon with offices in Asia, CTL® and their partners supply North American consumers, government agencies, and many of the most recognized corporate brands. For more information about CTL®, please visit http://www.ctl.net.
About Level 33 Consulting
Founded in 2013, Level 33 Consulting brings together some of education's leading professional developers in areas such as educational technology, curriculum and instruction, leadership development, digital citizenship, and school reform. Headquartered in Madera, California - Level 33 Consulting has served clients throughout the United States, Canada, Mexico and Brazil. Specializing in customized professional development experiences, Level 33 Consulting has produced single and multi day events and has served audiences up to 600. For more information on Level 33 Consulting, please visit http://www.level33.org.