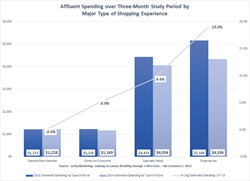 Retailers must enhance the in-store shopping experience targeting the affluent customers' special needs and expectations, otherwise they will simply order online.
Stevens, PA (PRWEB) June 30, 2015
The affluent customers, the heavy-lifters in the retailing market and prime target for luxury retail, are undergoing a seismic shift in their shopping habits, demanding more from the retailers they patronize and quick to jump ship if their expectations aren't met, according to a new survey of affluents' shopping behavior from Unity Marketing.
Not only are the customers' wants and needs transitioning, but retailers are facing a generational shift in their target market.

Affluent Baby Boomers are retiring which brings a whole new perspectives on what is important in their lives which is reflected in where and on what they spend their money.
The Millennial generation, as big a target market as Boomers, is delayed in reaching affluence, as they launch their careers in an especially challenging jobs market. Further many of those with highest earning potential by working toward advanced degrees may be restrained by record-levels of educational debt. They won't have money available for discretionary spending until that debt is paid off.
The GenXers, aged 36-50 years, and in the peak of their incomes and spending potential, are simply not big enough in numbers (there are about 46 million GenXers as compared with nearly 80 million Boomers and Millennials) to match the spending potential of the Boomer shopper cohort that came before them. GenXer can't fill the gap in the consumer market left behind by Boomers.
"Retailers selling to an affluent customer have an uphill battle to remain competitive in a marketplace whose very foundation is crumbling, as shoppers increasingly avoid the time associated with in-store shopping in favor of the convenience of ordering what they want online," Pam Danziger, author of the new study and president of Unity Marketing.
The new report examines the shopping behavior of the top 20% affluent consumers in 2015 and compares the results to comparable surveys in 2014. The latest study, based upon research with n=1,313 affluent shoppers (avg. income $258.7k), profiles affluent shopping across four key luxury sectors – General Merchandise stores, Internet etailers, Specialty Retailers and Experiential marketers – and tracks trends from 2014.
Key Trends Shaping the Future of Retail Catering to Affluent Shoppers
Affluents are turning away from specific shopping environments and experiences in favor of more specialized and specialty experiences:

Shift away from general merchandise retailers toward more specialty retailers – While affluents spent .4% less overall shopping in general merchandise stores, they picked up the pace of spending in specialty retail by 9.4% from 2014 to 2015. Among the specialty retailing sectors that benefited from more affluents purchases were home specialty stores, personal care/beauty stores, liquor/wine stores, art galleries and customer framing stores, and sunglass/optical stores.
"General merchandise stores need to reimagine the shopping experience to make it more specialized to needs of affluents. Rather than trying to be all things to all shoppers, they need to look at ways to bring the kinds of special shopping experiences to the customers with the most spending power -- the affluent. For example, Macy's recently completed the acquisition of beauty specialty retailer Bluemercury with plans to bring separate Bluemercury boutiques offering Bluemercury's distinctive luxury-leaning customer service strategy to the Macy's customers, all the while continuing to operate the brand's stand-alone stores," Danziger says.
Affluents favor online shopping, when all things are equal – With time the ultimate luxury for affluent consumers, going to the store is seen as a chore and time waster, rather than a pleasure and productive way to spend some free time. That is why, with only a few exceptions, affluents spent more shopping online when offered a choice of in-store or online shopping.
"Retailers must focus on enhancing the in-store shopping experiences, because when all things are equal, affluents will choose online convenience. Making the store an inviting destination is critical and that requires more than just posting a sale sign or giving sales associates a half-day training in customer service," Danziger explains.
Luxury experiences boomed as affluents crave more things to do than stuff to hve and own -- Challenging every retailer is the fact that affluents, especially Boomers, already have enough stuff.. They don't need more things. What they really want and need are experiences to enjoy. Affluents spent 19% more on luxury experiences during the 2015 study period, than in 2014. In particular, travel, dining and spa/salon services gained a much greater share of wallet.
"Affluents' shift from things to experiences is clear. That means retailers need to make shopping in their stores more experiential, and that means more than good customer service. We've uncovered 9 specific strategies that retailers need to implement in their stores that will make shopping in their stores a rewarding experience. The new report goes into detail about ways to generate an electric environment in the store that will energize customers and get them to buy," Danziger explains.
The new report, presented in a concise powerpoint format, makes it easy for subscribers to get the insights and understanding they need to attract more affluent shoppers to their store. A detailed report is also available which reports all statistics, suitable for those who need deeper access to the data sources that drive the conclusions in the summary report.
Visit http://www.unitymarketingonline.com to learn more about the reports or contact Unity Marketing directly by phone.
About Unity Marketing & Pam Danziger
Pamela N. Danziger is an internationally recognized expert specializing in consumer insights for marketers targeting the affluent consumer. She is president of Unity Marketing, a marketing consulting firm she founded in 1992. Pam received the Global Luxury Award for top luxury industry achievers presented at the Global Luxury Forum in London, 2007.
In January, 2013 Pam was named to Luxury Daily's elite list of 25 "Luxury Women to Watch in 2013." She is a member of the Jim Blasingame: The Small Business Advocate's Brain Trust and a contributing columnist to The Robin Report, a monthly newsletter for senior executives in the retail, fashion, beauty, consumer products and related industries. She is author of four books, including Putting the Luxury Back in Luxury: How new consumer values are redfining the way we market luxury(Paramount Market Publishing, 2011).
Among her many television interviews, she has appeared on NBC's Today Show, CBS News Sunday Morning, CNN, Fox News, NPR's Marketplace, and CNN In the Money and was featured in the CNBC special "The Costco Craze: Inside the Warehouse Giant."
Pam gives luxury marketers "All Access" to the mind of the luxury consumer. She uses qualitative and quantitative market research to learn about their brand preferences, shopping habits, and attitudes about their luxury lifestyles, then turns these insights into actionable strategies for marketers to use to reach these high spending consumers.