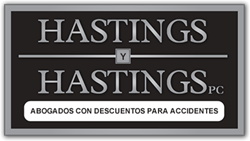 Phoenix, AZ (PRWEB) June 27, 2015
Hastings & Hastings, a dedicated team of focused personal injury attorneys based in Phoenix Arizona, reports an increased number of truck accident injury victims seeking to file personal injury claims. With 18 wheeler and semi-trucks dominating the roads and highways of America today, it is not surprising that a growing number of people are becoming involved in truck related accidents resulting in serious injuries and even wrongful death. Because trucks are larger than cars and motorcycles, they cause substantial damage and can be horrific in many ways. This is one of the primary reasons why trucking companies are required to maintain higher liability limits as compared to an average automobile owner.
While it is true that virtually every professional truck driver is required to go through comprehensive training and adhere to a wide variety of federal guidelines (addressing the number of hours that they can drive and how much a vehicle can weigh) they still become involved in accidents. Even more important to understand is the fact when a semi-truck driver does not adhere specifically to the rules of the road they are often held liable for the accidents and injuries they may cause. In addition, in some instances truck drivers may actually be held criminally liable for accidents that involve a collision between a large truck and a passenger vehicle. This is often due to the fact that the injuries sustained in a typical collision between a truck and a passenger vehicle can be catastrophic in many cases.
Hastings & Hastings offers injury victims that have been involved in an accident with a semi-or 18 wheeler professional and focused personal injury legal assistance and guidance. Offering some of the industry's most notable discount accident lawyer fees, Hastings & Hastings has saved clients a substantial amount of money in recent years due to its aggressively discounted fee schedule that is designed and tailored to save injury victims money on their settlement. In short, Hastings & Hastings makes it a point to ensure that clients retain a larger portion of a recovery or injury settlement every time. Other common personal injury cases routinely addressed by the professionals of Hastings & Hastings include dog bite related accidents, slip and fall accidents, motorcycle accidents, bicycle accidents, pedestrian accidents and other common accidents that occur every day in and around Phoenix as well as across the state of Arizona.
Hastings & Hastings is a leading provider of discount personal injury legal services located in and serving the greater Phoenix Metropolitan area. This respected legal firm specializes in assisting individuals that have been the victim of serious injuries that have resulted from accidents that were not fault of their own. Hastings & Hastings is a trusted group of attorneys that deliver personalized service and guidance for injury victims throughout Phoenix and all across the state of Arizona. Hastings & Hastings is known throughout legal circles as a dedicated team of professionals and a law firm that has been representing accident victims throughout Arizona for decades. Hastings & Hastings has consistently exceeds client's expectations with regard to representing a wide array of accident related injury victims at times when it matters the most and always doing so with discount attorney's Fees.