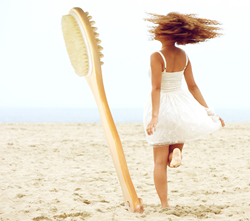 Skin Brushing is a classic wellness practice everyone should do, says the founder of Sublime Beauty® and Sublime Beauty NATURALS®.
St. Petersburg, FL (PRWEB) June 30, 2015
Skin Brushing (also known as Body Brushing) is a wonderful daily practice all year round. In summer, it is helpful to keep skin optimal and beautiful as it is more exposed to the elements.
Dry Skin Brushing takes only 10 minutes per day, but delivers great benefits. It can:

Exfoliate the dead cells and toxins on skin's surface. Skin is the largest organ of elimination and brushing helps the process.
Boost the circulatory system, helping to deliver nutrients through the body.
Support and move the lymphatic system, which has no pump of it own. Keeping the lymphatic system strong builds a strong immune system.
Distribute body oils to soften and enhance skin tone.
Reduce cellulite.
"We maintain a site all about Skin Brushing, and Skin Brushing alone," says Kathy Heshelow, founder of Sublime Beauty® and Sublime Beauty NATURALS®. "Find the HOW TO guides, background information, testimonials and which actresses love Body Brushing."
Sublime Skin Brushes are available now on Amazon and on the Sublime Beauty® webstore.
ABOUT: Sublime Beauty® is a French-inspired quality skincare company that focuses on products to Age Well. Ingredients help to boost collagen, hydrate, relax wrinkles and improve skin. A niche includes healthy Skin Brushes. Sublime Beauty NATURALS motto is "Make Healthy Choices, Respect Your Body, Love Nature". The company focuses on wellness and Certified Organic products.