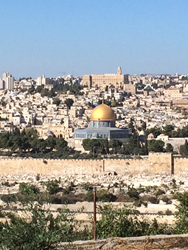 New York, NY (PRWEB) June 30, 2015
The Israel Tennis Centers Foundation announced exciting plans for its 2015 ITC Play Your Way Through Israel Mission to Israel. Scheduled from Friday, October 16 through Wednesday, October 21, this unique 6-day adventure combines the best of both worlds...tennis and touring.
"We have put together a comprehensive itinerary that will allow you to play your way through Israel while getting a rare look into the hearts and minds of Israel's people," said ITC Vice President/Global Development Jacqueline Glodstein. "This includes visits to several of our centers where you will meet the children of the ITC, be inspired by their extraordinary accomplishments and come to understand and appreciate 'One Court For All.'"
This unforgettable trip features a wide range of activities and speakers, from touring the off-the-beaten-path neighborhoods in Jerusalem and Air Force base in Hazerim to playing tennis at the various Israel Tennis Centers and participating in a ProAm tournament at the ITC- Ramat Hasharon.
Whether it's your first visit to Israel or your twentieth, the 2015 ITC Play Your Way Through Israel Mission is expected to be unlike anything even the most seasoned travelers have ever experienced!
To register, or if you have any questions, interested parties can contact the ITC by calling 212-784-9200 or email jglodstein(at)israeltenniscenters(dot)org. Details of the trip are also available by logging onto the ITC website at http://www.israeltenniscenters.org and viewing the informational flyer on the October page of the 'Upcoming Events' section.
About the Israel Tennis Centers Foundation:
The Israel Tennis Centers Foundation (ITC) is a 501 (c) 3 not-for-profit organization that works tirelessly through the medium of sport to enhance the development of Israeli youth. Since opening its first center in Ramat Hasharon in 1976, the ITC has helped over a half million children, many of whom come from outlying development towns throughout Israel. The ITC's 14 centers stretch from Kiryat Shmona on the Lebanese border in the North to Beer Sheva bordering the Negev Desert in the South. http://www.israeltenniscenters.org.
Contacts:
Jacqueline Glodstein
ITC Vice President/Global Development
212-784-9201
jglodstein(at)israeltenniscenters(dot)org
Richard Weber
ITC Global Director of Marketing
212-784-9202
rweber(at)israeltenniscenters(dot)org