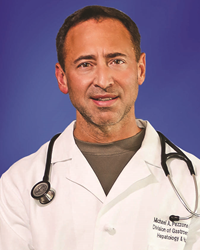 East Liverpool, OH (PRWEB) June 30, 2015
River Valley Physicians welcomes back to its provider family Dr. Michael Pezzone. Dr. Pezzone is board certified in Internal medicine, Gastroenterology, Hepatology and Nutrition. Dr. Pezzone is providing gastroenterology and hepatology services to the patients of River Valley Physicians (RVP) via RVP's surgery services office at 205 West Sixth Street, East Liverpool. This is a return for Dr. Pezzone, who took a leave of absence due to unforeseen circumstances having nothing to do with his medical practice. "RVP is thrilled to welcome Dr. Pezzone back", said Beth Weir, Executive Director of RVP. "Our patients are also happy that he is back. The citizens in East Liverpool and the surrounding area are very fortunate to have access to a gastroenterologist of Dr. Pezzone's caliber."
Dr. Pezzone brings more than 21 years of experience to the practice and enjoys helping patients improve and achieve a better quality of life. He is a national and international expert in functional bowel disorders including irritable bowel syndrome, constipation, and other disorders of motility and visceral pain. Dr. Pezzone is a local expert in celiac disease and other allergic and/or inflammatory disorders of the gastrointestinal tract and a regular lecturer for the University of Pittsburgh School of Medicine. He lectures on many different topics including the treatment of irritable bowel syndrome (IBS) and colon physiology and motility. He has been named Pittsburgh Magazine's Top Doctor in Gastroenterology and Castle Connolly (New York, NY) Top Doctor since 2008.
To schedule an appointment to see Dr. Pezzone please contact River Valley Physicians Gastroenterology office at 330-386-6444.
Dr. Pezzone's practice site houses the RVP service lines of general surgery, gastroenterology and urology and is one of eight RVP specialties located in six sites around the Calcutta and East Liverpool area. Dr. Pezzone joins RVP's other 19 providers—plus its 10 East Liverpool City Hospital family medicine residents—in providing care for our patients. Other RVP sites and specialties include Family Medicine, Orthopedics & Sports Medicine, Ear, Nose & Throat/Audiology, Internal Medicine and OB/GYN. River Valley Physicians currently operates eight different offices including Family Medicine, Orthopedics & Sports Medicine, Urology, Ear Nose & Throat / Audiology, Internal Medicine, OB / GYN, General Surgery, and Gastroenterology in the East Liverpool / Calcutta area. For more information please visit them on the web at http://www.rvphysicians.com.