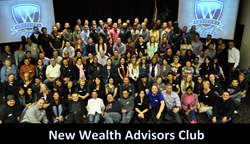 The common denominator with every real estate transaction you will be involved with is YOU. So the clearer you are with yourself and in your life, the easier it is to be in a space to serve a homeowner and assist them with the problems in their life.
Riverside, California (PRWEB) June 30, 2015
Mortgage crisis. Credit crisis. Bank collapse. Government bailout. Phrases like these frequently appeared in the headlines throughout the fall of 2008, a period in which the major financial markets lost more than 30% of their value. This period also ranks among the most horrific in U.S. financial market history. Not exactly prime time to start investing in real estate. In 2008, entrepreneurs Dave and Melina did just that, by co-founding the New Wealth Advisors Club founders. Seven years ago marked the inception of the club, and today growth is strong, despite the market.
Since 2008, the real estate club has grown from home meetings composed of a small group of friends, to a robust 300 members who meet regularly for trainings and networking in NWAC's 10,000 square foot office. Today, dozens of real estate transactions occur routinely out of the New Wealth Advisory Club offices. Monthly trainings are taught by instructors, experts in their field, who hail from as far away as Oklahoma, Indiana, and Florida. Active Club members are spread throughout the west coast, Nevada, and Hawaii. Members regularly and successfully close real estate deals based upon the principles and trainings taught at the Club. In the beginning, classes were limited and taught by Melina herself. Due to the Boswells' commitment to set Club members up for success, a core curriculum of classes and trainings have been developed and refined that include classes such as Distressed Property Acquisitions; a three-day field training program; Tax and Legal; how to utilize self-directed retirement accounts in real estate; and classes on Probate, Buy and Hold, Creative Acquisitions and so on.
With club members residing throughout the four Southern California Counties, the Club formed Mastermind groups that meet monthly, augmenting classes and regular club meetings. The first group met in San Diego County, then Orange County, with Los Angeles County being the latest addition to the Club's Mastermind group.
It is inevitable at the current pace and growth experienced during the past seven years, New Wealth Advisors Club will have locations in multiple counties by next year. NWAC keeps their students abreast of changes in strategy and current trends to meet the needs and demands of the ever-changing real estate market.
New Wealth Advisors Club is a community of real, like-minded, people committed to succeed together. The Club is active in today's market, doing real estate every day, working together to close more real estate deals. New Wealth Advisors Club is a local business, with a 10,000 sq. ft. office located in Riverside, California. There are 17 offices occupied by 20+ full time real estate investors, who answer their own phones. NWAC members are currently working deals in all 5 counties of Southern California (Orange, San Diego, Los Angeles, Riverside and San Bernardino) and the Club is looking to expand.