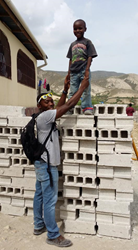 In seven trips to Haiti since 2007, this was my favorite and most impactful trip yet. - Joey Jenkins Ncompass Board Chair
Portland, Oregon (PRWEB) June 30, 2015
Three weeks ago seven students from Jesuit High School, in Portland Oregon, left the comfort of their homes and country to fly over three thousand miles to a small village in Haiti. The kids went on this adventure with the nonprofit Ncompass who has been supporting 40 kids in an orphanage in Haiti for over three years now. The team had been planning this trip for months and executed on their plans extremely well.
Ncompass is a Portland, Oregon based non-profit whose mission is not only to serve today's youth in Haiti, but to empower and develop them to become the generation that will shape their country's future for the better. The non-profit has been partnering with the Maranatha House Orphanage in Titanyen, Haiti since 2011. When Ncompass first became involved with the orphanage, their first mission was to find sponsors to make sure the kids were taken care of by loving staff members and nutritionally fed. Now that the basic needs of the children have been met by sponsors, they are focusing on bigger projects that will impact the children.
During this past trip the students from Jesuit High School were able to help with many projects as well as the construction of a new boys dorm that is about 50% complete. The new dorm will allow the kids to spread out and have more space, as currently all 40 children are in two bedrooms.
The team from Jesuit High School was a huge blessing for trip leader Kimmy Christensen and Joey Jenkins. As a former alumni of Jesuit High School, Joey had the privilege of watching the education and development that Jesuit has poured into these kids put into action.
Joey said that "Kimmy did an absolutely fantastic job organizing this trip and making it one of our most impactful trips to date. The students were about as mature and amazing high school kids we could possibly have."
Many of the students expressed interest in going back to Haiti again soon and one of them is even joining a team in August less than two months after returning home.
For more information check out the website at http://www.worldncompass.org