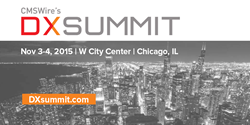 Digital Experience has seen massive growth in both tech innovation and business investment, even while the practices and technology ecosystem are still being defined.
San Francisco, CA (PRWEB) June 30, 2015
Simpler Media Group, Inc., publisher of the popular CMSWire.com website, has announced its debut industry conference covering the emerging field of Digital Experience (DX). Named CMSWire's DX Summit (#DXS15), this two-day event for global digital leaders and practitioners will take place on November 3 and 4, at the W City Center hotel in downtown Chicago.
CMSWire.com is a leading industry information site and a vibrant online community of more than 2 million readers. The CMSWire team has spent the past 12 years focused on digital experience, marketing technology, enterprise collaboration and information management topics. More than 400 industry professionals contribute to the publication each year, which puts it in a unique position to inform, inspire and connect a leading group of CMOs, CDOs, CIOs and MarTech specialists who are working at the leading edge of the IT, marketing and customer experience intersection.
"Far beyond a marketing buzzword, digital experience has seen massive growth in both tech innovation and business investment, even while the practices and technology ecosystem are still being defined. DX Summit will be the venue to learn lessons and share best practices -- and our goal is to inspire digital innovators for the year ahead," said Brice Dunwoodie, publisher of CMSWire and founder and president of parent company Simpler Media Group, Inc. "We're thrilled to be bringing together a unique group of digital leaders, experienced practitioners, sector analysts, world class integrators and software visionaries."
The event will be sponsored by a combination of software vendors, systems integrators and related service providers, with Swiss enterprise software vendor Jahia Solutions Group SA as the signature sponsor.
"Business technologists that really get the MarTech ecosystem and the power of exceptional customer experiences are the most sought-after people in the industry today. The depth of knowledge required to execute effective customer engagement programs sets these professionals apart. DX Summit is a critical event for every role in an organization that is concerned with digital transformation and the complexities of leveraging big customer data effectively and ethically," said Christopher Justice, senior vice president of marketing, Jahia.
DX Summit 2015 agenda topics include:

Creating stakeholder alignment and buy-in for DX investment
From zero to DX -- starting your journey
A framework for CDO, CIO and CMO collaboration
Creating customer-centric culture, teams and processes
Understanding and implementing agile DX
Evolving from web CMS to digital experience operations
Understanding DX in the MarTech ecosystem
How to deliver exceptional DX across countries and cultures
Putting customer and predictive analytics to work
Pre-registration is available now and full registration will open soon. Visit DXSummit.com to pre-register today and to get additional information. Other inquiries may be directed to Narasu Rebbapragada, Director of Strategic Content, at media.relations@simplermedia.com or 1-800-939-1913 x702.