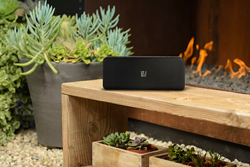 A speaker that doesn't sacrifice sound quality or responsiveness to withstand water, making it an ideal everyday speaker.
LOS ANGELES, CA (PRWEB) June 30, 2015
Soundfreaq, maker of the critically acclaimed line of wireless speakers, today announces the availability of Sound Kick 2, the company's first-ever water-resistant Bluetooth speaker. Sound Kick 2, an updated version of Soundfreaq's popular award-winning Sound Kick, pumps out louder, fuller sound with the addition of a passive radiator for enhanced bass. Sound Kick 2 is available now for $99 at Target stores nationwide, and on Soundfreaq.com and will be available on Amazon.com later this week.
"When we started to develop Sound Kick 2, our primary focus wasn't on creating a waterproof speaker, but rather on improving the sound quality and utility of the original design," said Matthew Paprocki, co-founder/creative director of Soundfreaq. "After hearing how our customers were using the original Sound Kick- as an everyday speaker, rather than just a travel speaker - we knew we wanted Sound Kick 2 to be more adaptable to some of the listening scenarios we came across. The result is a speaker that doesn't sacrifice sound quality or responsiveness to withstand water, making it an ideal everyday speaker."
Sound Kick 2 improves on the highly-praised acoustic performance of the original Sound Kick with enhanced bass, two 2.3 inch custom speaker drivers, and Soundfreaq's proprietary UQ3 spatial enhancement. Soundfreaq eliminated the retractable bass chamber featured on the original Sound Kick and instead incorporated a passive radiator to increase the bass performance.
Sound Kick 2 streams music via Bluetooth 4.0 and pumps out impressive sound for its small size that's surprisingly loud, full and clear. The compact speaker is constructed with a steel grill and rounded edges, making it easier to carry and more travel friendly. And it's IPX4 water-resistant rating allows users to enjoy their music in the kitchen, shower, on the patio or by the pool, without the worry of water getting in the way.
Sound Kick 2 is designed to sit upright, which is ideal for narrow surfaces such as a window sill or counter. It's also built with a kickstand so the speaker can be kicked back to project music out and upward.
To ensure a user's listening experience can last all day while on-the-go or around the house, Sound Kick 2 is equipped with a built-in rechargeable battery for up to 8 hours of playtime. It also includes a USB port, so users can keep their devices charged even while Sound Kick is running on battery power. It also offers line-in for any device with a 3.5mm headphone jack.
In addition, Soundfreaq is also launching a blue version of Pocket Kick, an ultra-portable Bluetooth speaker, which was named 2014's Best Portable Speaker by iLounge. Pocket Kick, originally $99, is now available at Target and on Soundfreaq.com and Amazon.com for $79.
For product images and one-sheets please go to: http://www.soundfreaq.com/press.
About Soundfreaq (http://www.soundfreaq.com)
Soundfreaq is a global co-op of craftsmen – designers and engineers – with deep expertise in consumer electronics and a passion for great sound. By working outside the limitations of a traditional corporate structure, Soundfreaq is able to develop products from the ground up that deliver premium sound for a wireless world and provide maximum value to consumers. All Soundfreaq speakers stream audio wirelessly, making every product compatible with today's and tomorrow's wireless devices. The company has been honored with multiple awards for its highly praised wireless speakers, including the "Mashable Choice" award in 2013, "Best in Show" from iLounge at CES 2012, 2013 and 2014 and "Gear of the Year" from WIRED Magazine in 2011. Twine International and LA-based creative incubator Goodhatch created Soundfreaq in November 2010.