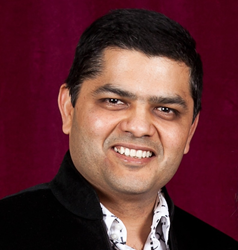 ShopSocially is looking forward to working closely with Australian retailers and help them leverage the passion of their customers for referral marketing success. - Jai Rawat, CEO at ShopSocially
Santa Clara, CA (PRWEB) June 30, 2015
ShopSocially today announced that it was invited for a keynote presentation at the recently concluded 9th annual PeSA Internet Conference held in Gold Coast, Australia from May 27th to 29th. ShopSocially CEO, Jai Rawat presented a case study highlighting the success of one of ShopSocially's customers, Avenue Stores LLC. Avenue achieved an ROI of 11.05X by using ShopSocially's referral marketing program; this was substantially higher than the results Avenue achieved from their existing marketing programs. The secret behind the high ROI is an effective social commerce strategy. ShopSocially's effective and result driven social commerce strategy boosted Avenue's conversion rate by 2.5X. Australian e-tailers attending the conference appreciated the insights shared by Jai on how to generate referrals from website users and leverage referral traffic to increase the overall sales conversion rate on their e-commerce website.
PeSA Internet Conference is one of the largest annual gatherings of e-commerce professionals in Australia. Over 3 days, this conference brings together hundreds of Australian online retailers. The conference focuses on e-commerce and is aimed at helping both established and new online retailers to learn about latest industry trends and increase their e-commerce business. ShopSocially being the leading marketing platform for social, referral and loyalty marketing, was invited to present some key marketing insights gathered from 100s of brand name customers. To drive home the tremendous opportunity that exists from implementing a proper social and referral strategy, Jai Rawat showcased a real life case study for Avenue Stores, LLC.
Using ShopSocially's referral marketing program, Avenue is generating numerous customer referrals on social media resulting in a high-quality referral traffic to their e-commerce website. This referral traffic is converting at an extraordinary rate of 28.48% on Avenue website. In the case study, Jai highlighted following referral marketing strategies for the benefit of Australian retailers:
1. Generating social referrals from website visitors: Website visitors have a definite interest in the e-commerce brand. With a slight encouragement, this interest can be leveraged to generate brand endorsements. Using ShopSocially's Social Connect app, retailers can incentivize website visitors to connect with their brand on Facebook. By prompting users to share on Facebook their reasons of preferring the brand, social posts can be generated endorsing the brand. These posts act as excellent social referrals, bringing in quality friend referral traffic
2. Converting customers into brand ambassadors via social sharing of purchases: Customer delight is at the highest when they complete the order. Happy with their purchase, they are most likely to recommend the e-commerce brand to their friends. ShopSocially's Share-a-Purchase app facilitates this social sharing of purchase by seamlessly integrating the sharing feature in purchase cycle. This converts customers into brand ambassadors and drives high-impact word-of-mouth promotions for the brand. Resulting referral traffic is of very high quality
Besides these strategies, Jai also shared insights on using referral marketing through emails. By incorporating a simple referral link in regular customer communication related to order confirmation, shipping updates, new promotions; retailers can continuously tap into customers' friend network and acquire qualified new customers. Similarly, by incentivizing website users to refer the brand to friends through channels like Facebook, Twitter, email; e-commerce brands can generate valuable customer referrals. Another innovative referral marketing channel is to leverage the customer photos on social channels like Instagram. Customers photos tagged with specific brand hashtags can be aggregated and showcased as visual referrals in an attractive gallery format on website. These innovative referral marketing strategies to utilize customers' passion for acquiring new customers and gaining incremental referral business were well received by Australian retailers.
"Like other developed markets, referral marketing holds immense promise for Australian e-commerce retailers. Australian customers are always connected through social networks, and hence socially shared recommendations from friends and family can act as substantial influence in purchase decision of customers," said Jai Rawat, CEO of ShopSocially. "ShopSocially is looking forward to working closely with Australian retailers and help them leverage the passion of their customers for referral marketing success."
About ShopSocially:
ShopSocially is a premium, social, referral and loyalty platform for marketers. Leading brands like Zazzle, ULTA, Beretta, Dressbarn, Avenue etc. are using the ShopSocially platform to enable referral marketing, visual commerce, customer loyalty, social login, social gamification and other such programs on their site.
ShopSocially has been consistently driving word-of-mouth promotions via social for 1000s of brands and delivering positive ROI for their social media efforts. ShopSocially has won several awards and has also been featured by Facebook in a Social Commerce case study.
Launched in Oct 2010, ShopSocially is a privately held company in Santa Clara, CA. For contact information, please visit http://shopsocially.com/platform/request-a-demo.html.