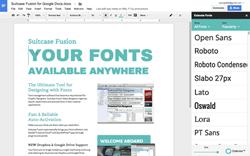 Today's announcement builds on Extensis' mission to empower creativity through easy to use font management solutions
Northampton, UK (PRWEB UK) 1 July 2015
Extensis® today released Extensis Fonts, a new font panel for Google® Docs™ that allows users to quickly access and use thousands of fonts from the Google Fonts collection.
Available as a free add-on via Google Docs, Extensis Fonts presents a dynamic font panel where users can browse, preview and apply fonts directly in their Google documents. Users can:

Immediately access the entire Google Fonts collection of over 1200+ fonts
Select any text and with one click apply a font
Easily browse font options with large, easy-to-inspect font previews
Search for fonts by popularity and trending status
Browse fonts by style
"Today's announcement builds on Extensis' mission to empower creativity through easy to use font management solutions," said Clint Daeuble, Product Owner of Fonts at Extensis. "Our goal is to continue expanding the font universe so people can easily access and experiment with a broad range of typography directly within the industry's most widely used applications."
For more information and instruction on how to download, click here.
Extensis Font Management Solutions:
Extensis has been leading the way in font management for two decades, with solutions that help enterprises and designers put their best font forward. Products include:

Suitcase Fusion®, the professional grade font manager which helps customers take full control of their font collection
Suitcase Attaché™ for Windows®, a next generation font menu for Microsoft® Word and PowerPoint®
Universal Type Server®, the popular font server which centralises font libraries, solving the issues of font management, access and compliance
About Extensis:
Celebrating more than two decades in business, Extensis® is a leading developer of software and services for creative professionals and workgroups. Their solutions streamline workflows, securely manage digital assets and fonts, and control corporate typographic branding. Used by hundreds of Fortune 5000 companies, Extensis' award-winning server and desktop products include: Portfolio® for digital asset management, Universal Type Server® for server-based font management, and Suitcase Fusion® for single-user font management. Founded in 1993, Extensis is based in Portland, Oregon, and the United Kingdom. For additional information, visit http://www.extensis.com
© Celartem, Inc. d.b.a. Extensis All rights reserved. Extensis and the Extensis logo mark, Suitcase Fusion, Portfolio Server, Portfolio NetPublish, Portfolio Flow and Universal Type Server are trademarks or registered trademarks of Extensis in the United States of America, Canada, the European Union and/or other countries. This list of trademarks is not exhaustive. Other trademarks, registered trademarks, product names, company names, brands and service names mentioned herein are property of Extensis or other respective owners.
Google and Google Docs are registered trademarks of Google Inc.
Microsoft, PowerPoint and Windows are either registered trademarks or trademarks of Microsoft Corporation in the United States and/or other countries.