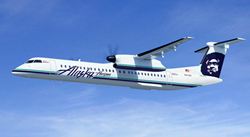 Crested Butte will now be a quick three hours of total travel time from Los Angeles.
Mt. Crested Butte, CO (PRWEB) July 01, 2015
Currently with direct non-stop flights from four major cities on two different airlines, Crested Butte Mountain Resort (CBMR) and the Gunnison Valley Rural Transportation Authority (RTA) are pleased to announce not only a new flight market, but also a new airline to its regional airport for the 2015-2016 winter season. This new agreement will bring a twice-weekly direct, non-stop flight into the Gunnison-Crested Butte Regional Airport (GUC) from Los Angeles International Airport (LAX) on Alaska Airlines. The new flight is scheduled for Wednesdays and Saturdays beginning December 16, 2015 and flies through March 26, 2016.
"There are a lot of encouraging opportunities for this new air service," explains Scott Clarkson, vice president of sales and marketing for Crested Butte Mountain Resort. "Nationally, Los Angeles is the number one domestic market for destination skiers and snowboarders. Combine that with the fact that Crested Butte will now be a quick three hours of total travel time from Los Angeles and the great lodging offers we have in the marketplace right now and you won't find a better ski vacation deal out there. Further, Alaska Airlines will be an active marketing partner to help make this service a success."
Alaska Airlines has loaded these flights, and fares are now available for purchase. The airline is also announcing this new flight with an introductory fare sale for those who wish to make their plans to the popular ski destination and take advantage of some early airfare savings, with rates starting at $119 one-way, if booked within the next seven days.
"I know lots of strong skiers from LA, and they love our mountain and our town," mentions John Norton, executive director for the Gunnison-Crested Butte Tourism Association. "We believe this new service is really going to work for the valley."
For exact flight schedules and fares, visit http://www.alaskaair.com. Full vacation travel arrangements can also be made by calling Crested Butte Vacations at 1-844-993-9545, where guests can receive up to 30% off lodging if booked by August 15, 2015.
General terms and conditions for Alaska Airlines Introductory Fare Sale: Seats are limited and may not be available on all flights or all days. Some markets may not operate daily service. Fares are nonrefundable, are priced in U.S. dollars and include all applicable taxes, fees and charges based on one-way travel. A ticket purchased at an Alaska Airlines airport location or through one of our reservation call centers will cost $15 more per person than the advertised fare. Differences in fare and taxes, fees and charges apply to any changes made after ticketing. A $125 change fee per person applies to changes made within 60 days of ticketed travel. Other restrictions— such as day of week, blackout dates and advance purchase requirements — may apply. Additional U.S. taxes may apply to itineraries involving more than one stopover or a stopover lasting more than 12 hours. Bag fees apply for checked baggage. See alaskaair.com or call Alaska Airlines reservations at 1-800-ALASKAAIR for complete fare rules, checked baggage policies and more information.
About Crested Butte:
Nestled in the heart of Colorado's Rocky Mountains, Crested Butte is committed to preserving the pristine landscape and mountain lifestyle. With vibrant Victorian store fronts and expressive local characters, the small historic town remains true to its heritage and radiates an unparalleled welcoming and inviting spirit that celebrates a simpler life and time. Thanks to a widely diverse landscape, outdoor enthusiasts of all levels will find a new challenge with each visit. From world-class mountain biking, to legendary skiing and snowboarding, to a secluded fly-fishing experience, Crested Butte is one of Colorado's best-kept secrets. http://www.skicb.com
For more information about Crested Butte's lodging, conference, meeting facilities, and special packages, call Crested Butte Vacations, 1-844-993-9545 or visit the web site at http://www.skicb.com/deals.
###