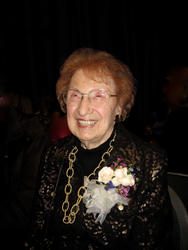 South Orange, N.J. (PRWEB) July 10, 2015
B.Ruth Soffen, a resident of Village Apartments of the Jewish Federation in South Orange, was still taking a bus every week until age 100 to play bridge 40 minutes away in Maywood. Now 101 years old, the once-avid bridge player still enjoys playing occasionally at the senior living community she's called home since late 2006, and crochets with the knitting club there. The plucky spirit that carried her through her younger years keeps her engaged today.
B.Ruth (the name behind the "B" remains a secret) has many colorful stories to share, starting in Bensonhurst, Brooklyn. Her father pickled cucumbers, peppers, and tomatoes in the basement of their home, selling his goods from a horse-drawn wagon. Her brothers later took over the business as Kerman Brothers Pickle Works and bought a delivery truck; Soffen learned to drive and took her road test in it.
Financial hardship befell the family and during Prohibition, the elder Kerman became a bootlegger to help make ends meet. The family sold alcohol by the pint from the house and later, B.Ruth and her brothers made deliveries throughout Brooklyn by train.
"I delivered to customers in Bay Ridge. I would take the train lugging two-gallon jugs of alcohol that they'd use to make schnapps," she recalled. "I once had to miss my stop to avoid catching the attention of the policemen on the train."
The family's life took a sad turn when some customers robbed and killed her father. Soffen, who was 20 years old at the time, said that "Life was never the same after that."
An independent spirit
Her trademark spunk carried her through many interesting times and to many destinations. She once hitchhiked from Brooklyn to Florida and frequently made her way around Brooklyn by hitching. In 1942, after a brief stint in Washington, D.C. to work as a secretary for the U.S. Army Air Forces Materiel Command Procurement Division, she transferred back to New York City to work closer to home.
An early women's libber long before the movement was conceived, Soffen supported herself while fending off the "ladies' men" in the office. She broke two engagements before meeting her husband, Norman Soffen, at a Catskills hotel in 1951. They fell in love and married, setting up house in Flushing, Queens where her daughter was born.
Proving herself to be nobody's fool, she stood up to one supervisor who tried to blame her for his error. In 1957, at another employer, she took the Unemployment Office to court when she was wrongfully denied unemployment benefits.
"When our daughter got sick as a preschooler, I took a month off from work to care for her, and I was fired," said Soffen. When she went to collect unemployment, she was told no one would hire her due to the limited "flex time" school hours that she was available to work. Soffen had to prove that jobs with those hours existed. "This was an anomaly back then but I proved that there were indeed such hours already in the workplace," she explained. "I fought and won the arbitration on my own without a lawyer and even got back pay."
The Soffens lived in Cliffside Park and North Bergen, and opened Soffen Furniture Company in Union City in 1958. B.Ruth got private tutoring to learn Spanish so she could communicate with the Cuban immigrants who were moving into the neighborhood, and the store was among the first to extend credit to the local residents when the banks would not.
"We helped many people furnish their apartments through credit. Our customers made reliable weekly payments. They worked very hard and went to school at night to learn English. They wanted the best of what America offered." She added that years later, people from the neighborhood still greeted her warmly when they met on the street.
Celebrating 100 years in style
Soffen turned 100 in April 2014, and her friends, family, and bridge club turned out for several parties. As a special treat, her daughter and son-in-law took her and two friends to the Dr. Oz show. At the end of the show, Oz presented her with a birthday cake and interviewed her on camera. When asked what her secret to longevity was, Soffen replied, "You have to look forward to something exciting every day. That's what makes the heart beat," to which Oz, a cardiologist immediately responded, "I've been looking forward to seeing you all day long 'cause you made my heart beat today. Happy birthday."
Enjoying Village Apartments and South Orange
Soffen takes advantage of the meal program at Village Apartments of the Jewish Federation and eats dinner in the community's dining room three nights a week. She is grateful that she lives just a few blocks away from a synagogue. "Village Apartments is in a great location, so close to Oheb Shalom, where I've made friends and enjoy attending services." The community is also within walking distance of the public library and the local market she likes. "It's nice to be so close," she added.
Village Apartments of the Jewish Federation, owned and managed by the Jewish Community Housing Corporation of Metropolitan New Jersey, is located at 110 Vose Avenue in the heart of South Orange Village. For more information about the housing options and services for seniors, visit http://www.jchcorp.org or call Site Manager Cheryl Kasye at (973) 763-0999.