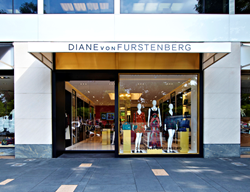 Finally, we announce the DVF opening. - Deirdre Costa Major, President Americana Manhasset
Manhasset, New York (PRWEB) July 07, 2015
The new store marks the brand's first permanent, full-scale boutique on Long Island.
"Americana welcomes DVF. We are pleased to have Diane von Furstenberg's fashion boutique join our collection of fine shops. Our customers have been asking us for her store for many years. Finally, we announce the DVF opening," said Deirdre Costa Major, President Americana Manhasset.
The 1,400 square foot shop is the latest adaptation of the DVF store design concept. Inspired by the brand's core equities, the interior evokes a playful sophistication and modern femininity that is effortless, sexy and on-the-go. Iconic graphic patterns contrast a white, gallery-like interior, with printed art and canvas wall coverings in black steel frames lining the walls throughout. A vintage Murano glass chandelier sourced by Ms. von Furstenberg herself hangs as the centerpiece of the store. A lip-shaped sofa and luscious fitting room drapery in DVF pink create spaces that celebrate and empower the DVF woman.
The Americana Manhasset shop offers the full collection of Diane von Furstenberg ready-to-wear, and a broad selection of accessories including handbags, shoes, scarves, jewelry and eyewear. It also features a dedicated wrap shop, which offers the full range of wrap dresses, gowns and jumpsuits in DVF's most iconic prints.
Diane von Furstenberg is the brand that is consistently the best friend in a woman's closet—the brand she turns to for glamour and confidence, to be the woman she wants to be. Founded in 1970 by the designer, DVF is now a global lifestyle luxury brand and one of the premier names in American fashion. Renowned for its iconic wrap dress and signature prints, DVF has expanded to a full wardrobe of ready-to-wear and accessories including handbags, shoes, small leather goods, scarves, and jewelry. The company also offers luggage, eyewear, and home furnishings. Founder and Co-Chairman Diane von Furstenberg is the President of the Council of Fashion Designers of America. She also serves on the board of Culture Shed, the new center for artistic and cultural innovation in New York City. In 2014, Diane published a memoir, The Woman I Wanted to Be, and in 2015 she was named one of the TIME 100 Most Influential People.
Americana Manhasset is a premier collection of over 60 fine shops, including Hermès, Dior, Prada, Louis Vuitton, Gucci, Loro Piana, Chanel, Ralph Lauren, Ermenegildo Zegna, Cartier, Bottega Veneta, Hirshleifers, London Jewelers and more, all within a unique outdoor environment designed by renowned architect Peter Marino and landscape designer Oehme van Sweden. Americana Manhasset offers a complimentary Personal Shopping Service, a remarkable luxury fashion and gift resource. Located on Long Island's beautiful North Shore, Americana Manhasset is 20 miles from Manhattan and 50 miles from the Hamptons.
For more information, please visit http://www.americanamanhasset.com.
Follow @americanashops on Instagram, Twitter and YouTube, like our Facebook page and check our Blog!