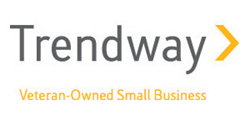 On Time or On Trendway
Los Angeles, CA (PRWEB) August 01, 2015
About Our Sponsor:
Trendway Corporation, an employee owned company in Holland, Michigan, helps customers create beautiful and effective work environments with a wide range of furniture and architectural products. A company with more than 45 years of exceptional performance, Trendway provides customers peace of mind through outstanding service, quality products, guaranteed delivery, and fast/flexible custom solutions. The company offers many products including panel systems, filing, storage, casegoods, seating, and architectural solutions with moveable walls, glass storefront and raised floor. Trendway has served government customers as a GSA Contractor for more than 20 years. A Zero Waste to Landfill facility, its products are tested for conformance to SCS Indoor Advantage™ or Indoor Advantage™ Gold requirements. Many Trendway product lines have been level 1 certified by the NSF International. For more information on Trendway, please call (616) 399-3900 or visit http://www.trendway.com.
Trendway is proud to sponsor this new Interior Design course offered by The Academy of Home Staging & Design. This 5 day course being held at the LAMart, October 5, 2015, will offer a comprehensive, hands on approach to the Interior Design field.
Students will learn how to renovate and design a home from the ground up, start and run a lucrative design business. This course will include all of the business documents needed and everything you need to know about attracting and working with clients. This is the perfect course for those seeking to Design Interiors for a living or anyone wanting to design and renovate their own home.
For more information on the Interior Design Certification Course click here: The Academy of Home Staging & Design. To register or for more information please call 800-574-5576