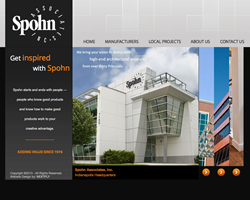 Spohn has a great reputation in the industry in working closely with architects on product education and project specifications
(PRWEB) July 06, 2015
Greco Aluminum Railings, manufacturer of fully welded aluminum and glass railings, is pleased to announce a new member to its architectural team, naming Spohn Associates Inc. to represent its full product line of architectural railings in Indiana, Ohio and Kentucky. Greco is rapidly expanding in the United States and continues to bring on strategic partners to help promote its products to the architectural community.
Spohn represents an extensive line of architectural products in Division 5,7,8 and 10. Established in 1976, Spohn is one of the largest independent architectural representative agencies in the United States. With a philosophy and focus on building and maintaining strong relationships with both the building product manufacturers and architects, the company represents some of the highest quality products in the industry.
"Spohn has a great reputation in the industry in working closely with architects on product education and project specifications " says Jim Ellsworth, President of Greco Aluminum Railings USA, Inc. "We are excited to have Spohn on our team as a strategic partner to continue our efforts to build our brand awareness and grow our business in the United States. Our growing network of architectural representatives will be a critical component to our continual expansion in existing and new geographical markets."
For more information on Greco and a complete list architectural representatives please visit http://www.grecorailings.com, email sales(at)grecorailings(dot)com or call 800.363.7245
# # #
About Greco Aluminum Railings
Greco designs, engineers, manufacturers and installs welded aluminum railings. Founded in 1991 in Windsor, Ontario, Canada, Greco railings are used in Canada, United States, and the Caribbean. The company's success is contributed to innovative designs, outstanding customer service and unparalleled technical support. For new construction or restoration projects, Greco's aluminum railings have become the first choice of designers and product specifiers. To learn more about Greco visit http://www.grecorailings.com or call 800.363.7245
About Spohn Associates, Inc.
Spohn Associates Inc. represents an extensive array of architectural products with thirteen sales associates covering the Midwest region of the United States. Established in 1976, Spohn is lead by founder Eric Spohn with offices in Indianapolis, IN, Cincinnati, OH, Columbus, OH, Dayton, OH, and Louisville, KY. For more information on Spohn Associates Inc. visit http://www.spohnassociates.com or call 317.921.0021.