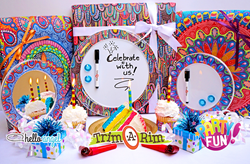 ...it just tickles me to think about my New Zealand doodles brightening up US school lockers, kitchens, offices and the like.
Reston, Virginia (PRWEB) July 07, 2015
Innoversa Corp., maker of the popular Trim-A-Rim™ reversible home, office and locker mirror and magnetic whiteboard, is excited to welcome New Zealand's talented Angel van Dam (whose design brand is Hello Angel) into its family of artists and to make Hello Angel's fun, bright and colorful artwork available for free use in Trim-A-Rim's changeable clear display rim.
An introductory video giving a sneak peek at Hello Angel's eye-catching art is available on Trim-A-Rim's YouTube channel. Hello Angel's vibrant designs can be found in the free collection of Downloadable Ready Rings and in the Hello Angel Collection in the Art Library of the online Design Studio, also at no charge.
In reference to this new creative collaboration, Angel reports that "When my daughter and I first saw these cool Trim-A-Rim whiteboards and mirrors, I knew this would be a fun project to get involved with. I love how I can share my creations with a larger audience, and that the art will be enjoyed everyday in such a practical way. The personalization aspect is also wonderful -- I'm a big fan of creative fun and people of all ages celebrating their own unique style. And it just tickles me to think about my New Zealand doodles brightening up US school lockers, kitchens, offices and the like."
In further news, just in time for leisure summer get-togethers, back-to-school and the approaching holiday season, a new Party Fun collection of creative resources has been added to Trim-A-Rim's website. Intended for all ages, included are fun whiteboard games, tips and tricks for creating great borders, free downloadable party invitations and other resources to support party hosts and event planners -- or anyone looking for a fun and practical craft to enjoy with a few friends on a rainy day, at a church or other group get-together, fundraiser or celebration. Trim-A-Rim makes a unique party favor and creative activity for birthdays, bar or bat mitzvahs, sorority events, slumber parties and other gatherings.
Trim-A-Rim's Facebook page is the place to go for details about exciting contests and give-aways celebrating Party Fun and the addition of Hello Angel's distinctive art. Included is a Party Photo Contest, where two lucky entrants will win $500 each. No purchase is required to enter any of the company's contests.
Trim-A-Rim's mission is to inspire creativity and to allow everyone to show their own personal style. Crafters and non-crafters alike can visit the company's free website to create and print their own border designs or to choose pre-designed interchangeable inserts to place inside the clear frame.
Teens and students love the Design Studio for creating borders to celebrate their school colors, team names, and inspirational quotes. Nothing shows off school spirit and personal style like a custom-designed locker mirror or a message board for the dorm room or sorority. And moms enjoy Trim-A-Rim on the kitchen fridge as the family message center, or as the perfect creativity-inspiring activity and favor for their kids' birthday and slumber parties.
About Trim-A-Rim and Innoversa Corp.:
Trim-A-Rim, a reversible mirror and magnetic whiteboard with a customizable clear frame, is available in two diameters – the 10.25" Full-size and 7.5" Mini ("locker size"). Easy to hang by the strong magnets or keyhole on the back, this product comes with a dry-erase marker, two colorful note magnets, a variety of pre-printed and blank ready-to-color insert rings, and a tracing template. Trim-A-Rim is constructed of durable, high-quality materials built to last, and is independently safety-tested and certified. It was designed and developed by Innoversa Corporation, a Reston, Virginia company committed to creating innovative and versatile consumer products.
Praise for Trim-A-Rim:
"Had a blast making personalized Trim-A-Rim rings in the Design Studio at your website. This is by far the coolest thing for back to school this year! My students are going to love this!" -- Amy Thomas
"Fun and useful! Both of my daughters have Trim-A-Rims, which are prominently displayed above their bedroom desks. One prefers the mirror side, the other (the more organized of the girls) uses hers for notes to self. Both had fun creating their own colorful borders. A total winner!" -- G. Bruce Knecht
"Our family loves the Trim-A-Rim! I put our 'honey-do' list on it for my wife and that has changed our life! Also my boys take pride in making an inspirational and creative drawing or saying on it every day!" — Michael Stewart
"I love the Design Studio app - it was really fun to create a custom pattern in the colors I like for the border of this mirror. Next I want to use some of my own photos to give as gifts." -- Lisa Fulmer
"I got one of these for my daughter and she really loves it. She's constantly changing up the design and I love seeing the funny messages she leaves on the refrigerator. She has a birthday coming up and I plan to buy one for all the kids that are coming...it will be an activity while at the party and a gift her friends can take home." -- Marc Blackwood
"The fact that you can change out the border to match any décor is really awesome. Also since my kids don't have typical names, personalized items are hard to come by, so having something that I could personalize for them was a huge bonus to me!" — Donna Stevens
For more information contact: Philip Fleet - 703-389-9660 - pfleet(at)innoversa(dot)com