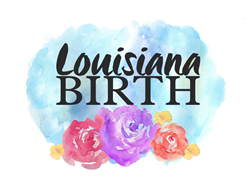 "My wonderful natural VBAC experience could not have been more perfect, my doulas from Louisiana Birth helped make that possible for me!!! Love these ladies."
Baton Rouge, Louisiana (PRWEB) July 21, 2015
To the modern expecting mother, the term "doula" means far more than its traditional interpretation, "servant of the mother." Moms and partners alike praise their "birth party planner", for invaluable support throughout what can be the most exhilarating and unforgettable experience of a new family's lives. A-list parents such as Nicole Kidman, Idina Menzel, and Kelly Ripa have regarded doulas as an absolute necessity in their journey to motherhood. Not only can hiring a doula decrease a mother's C-section rate by 28%, it can decrease negative feelings toward her birth experience by 34%, making for a more enjoyable and natural transition into the postpartum period. Now the birthing community of Southern Louisiana has found its ideal team of quality doulas and Placenta Encapsulations Specialists.
Corrine Marshall and Katy Soong of Baton Rouge, Louisiana, are pleased to announce their official doula partnership as they launch their business, Louisiana Birth. Louisiana Birth provides pregnancy,childbirth, and postpartum services to families in Baton Rouge, Hammond, North Shore, Slidell, and New Orleans, Louisiana. While best known for doula services, the company also provides postpartum services such as placenta encapsulation, Bengkung Belly binding, vaginal steams,lactation cookies, and an array of all-natural products.
Louisiana Birth is one of the first in their area to form a doula partnership, eliminating the need for an unknown back-up doula in a case where the hired doula cannot attend the birth. The collaboration also aids the doulas themselves, ensuring that they are only on-call two weeks out of the month, and allowing for a more stress-free work schedule. Katy and Corrine share all doula clients, attending prenatal appointments together, and establishing equivalent relationships with their clients so that mothers feel comfortable no matter who attends their births. Both doulas share an identical birth philosophy; that every mother has the right to birth her baby in the way she sees fit, without judgment from care takers or providers. This philosophy has been crucial to the success of Louisiana Birth, and the excellence with which the company serves its clients.
The variety of packages offered by doulas Katy Soong and Corrine Marshall enables families to select the options that are most important to them. Many mothers find that the most significant information discussed prenatally includes how to write a birth plan. For this reason, Louisiana Birth focuses their first prenatal appointment on birth planning. The doulas have a thorough list of options for parents-to-be, ranging from music playlist selections and labor attire, to induction and circumcision. Corrine is adamant about expressing to clients the importance of finding a provider who is supportive of their birth plan.
"I encourage families to choose a provider who supports your birth plan, and not to hesitate to shift to a more compatible doctor if necessary."
The doulas of Louisiana Birth attend births in homes, hospitals, and birth centers. Katy and Corrine specialize in natural births, VBACs (vaginal births after cesarean), epidural births, inductions, and cesareans.
Recent VBAC client, Melanie Cagle raves, "My wonderful natural VBAC experience could not have been more perfect, my doulas from Louisiana Birth helped make that possible for me!!! Love these ladies."
Louisiana Birth has also recently included placenta encapsulation in their list of services offering both raw encapsulation and the Traditional Chinese Method of encapsulation. Encapsulating a mother's placenta can potentially help her avoid postpartum depression, anemia, low milk production, and low energy, as well as promote overall healing. Along with encapsulation, Louisiana Birth also offers placenta prints, salves, tinctures, smoothies, and chocolates for postpartum relief.
Katy is especially passionate about the placenta prints because, as she says, "Each print is as unique as the baby it belongs to."
In addition to the many services offered by Louisiana Birth, Corrine and Katy have introduced a line of natural products for pregnancy, birth, and postpartum. The naturally minded mothers have been creating their own self care and baby products for their families for years, and after announcing their partnership, have decided to carry the products in their online store. Their most popular items include perineum oil, belly balm, sleepy time cream, lip balm, bath salts, and teething balm. Louisiana Birth also offers homemade lactation cookies for breastfeeding moms, to help establish and increase milk supply.
The team is scheduled to make several appearances at local hospitals and birthing centers over the next few months, presenting their products and packages to families looking for outstanding support for pregnancy and postpartum.
Corrine and Katy's passion for elevating the birth experiences of local mothers is evident in their superior service demonstrated to clients. Louisiana Birth is quickly becoming the obvious choice of expecting mothers and families of South Louisiana for all prenatal, birth, and postpartum needs.