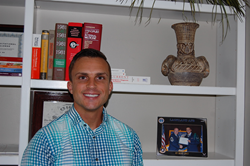 "Our program gives men peace of mind," said Roberts. "It evaluates what's going on in your body and helps you take preventative measures to live a longer, healthier life."
WEST CHESTER, Ohio (PRWEB) July 08, 2015
Bio-Male Center for Men of West Chester, Ohio, will host its grand opening and ribbon-cutting on Wednesday, July 29.
Bio-Male seeks to help men optimize good health, remain young longer and have more energy. Its programs focus on diet and exercise programs, vitamin and mineral supplementation, and testing and treatment to optimize male hormones.
Bio-Male uses the Metabolic Code® program to create an individualized exercise program for each member based on his goals, whether they are beginners who want to work out at home or hard-core exercisers.
The Metabolic Code is a web-based approach to clinical assessment and treatment for integrative medicine practitioners developed by Jim LaValle, a pharmacist, nutritionist, best-selling author and industry expert.
Kyle Roberts, Bio-Male marketing director, has a history of helping men get fit and stay healthy.
While he was in the U.S. Air Force, he developed a workout plan focused on different types, amounts and intensities of exercises and ever-changing running distances and durations.
While developing this workout program-- which was eventually used by hundreds of airmen-- and carrying out his everyday duties as a member of the United States Air Force, Roberts received the Air Force Achievement Medal.
His dedication to physical fitness and continuous improvement led to employment as marketing director for Bio-Male.
"Men come in and fill out an in-depth health questionnaire that examines their individual and family health history," he said. "We take their blood pressure and draw blood to test their hormones, including cortisol, insulin, and thyroid; and cholesterol levels, looking at several different cholesterol particles that have multiple implications in determining if they are disease-causing or not.
"We also look at the overall level of disease-causing inflammation in the body and do genetic testing such as the MTHFR snips, which help determine cardiovascular risk and are a general marker for potential issues with the body's ability to handle toxins and chemicals," he said. "On a follow-up visit, our physician's assistant goes over test results and recommends lifestyle modifications such as diet and exercise and supplements, as well as targeting medications."
Roberts said he recently completed Bio-Male testing and discovered he could be prone to heart disease as he ages. Now he takes fish oil and other supplements to prevent it.
"Our program gives men peace of mind," he said. "It evaluates what's going on in your body and helps you take preventative measures to live a longer, healthier life."
Jeff Hogrefe is owner of Bio-Male and oversees its testing protocols. He is a compounding pharmacist with an advanced degree in functional medicine and owns the Piqua Compounding Pharmacy in Piqua, Ohio.
"Our cardiovascular testing includes measuring two MTHFR gene mutations as part of an extremely comprehensive battery of tests," said Hogrefe. "Everyone has a varying ability to handle their toxic load. There are two ways our bodies get cholesterol. We either absorb it from our diets, or we make it in the liver. Statins block the body's ability to synthesize cholesterol. We can determine if a person predominantly synthesizes cholesterol, or absorbs it.
"If you are a person who is a heavy absorber, you typically don't need or do much synthesizing and will not derive benefit from statin use. It is my belief that some people end up taking very high doses of statins in an attempt to see a significant drop in cholesterol, but end up with a whole host of side effects such as muscle damage and general aches and pains.
"In addition, they decrease their ability to make coenzyme Q10, which is the major fuel source of cells. Depletion of COQ levels can have significant implications in cardiac cells, leading to poor heart function."
Hogrefe said Bio-Male also measures inflammation levels, which are markers for cardiovascular disease. He uses a separate lab for measuring testosterone.
"The usual range for testosterone is 150-700," he said. "We prefer that our guys be above midpoint: around 400 to 550. We also measure estradiol, estrone, progesterone, DHT, DHEA and cortisol. These are all important in determining overall treatment strategies. We also measure free testosterone levels. We are finding in general that guys have lower testosterone levels than previous generations. Reasons likely could be linked to lifestyle, environment and diet."
A Bio-Male initiation fee costs $350, which is covered by insurance, plus a monthly fee of $60 per month for extensive lab testing worth several thousand dollars two to three times per year; an initial, hour-long consultation and two, follow-up, 30-minute consults; direct email access to staff for questions; and a comprehensive, individualized healthcare strategy.
For more information about the ribbon cutting or to make an appointment at Bio-Male, go to http://www.cincinnatiwellnesscenter.com or http://www.biomalecenter.com or call 888-418-2037.
Contact: Darrell Dodge
Email: info(at)biomalecenter(dot)com
Phone( (888) 418-2037
About Bio-Male Center:
Bio-Male Center is a preventative healthcare center for men located in West Chester, Ohio. The center focuses on helping men avoid disease and attain good health through strategies that include exercise, nutrition, vitamin and mineral supplementation and optimization of male hormones.