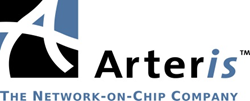 CAMPBELL, Calif (PRWEB) July 07, 2015
Arteris Inc., the inventor and only supplier of silicon-proven commercial network-on-chip (NoC) interconnect IP solutions, today announced that Sequans Communications, maker of single-mode LTE chipsets for the Internet of Things, has licensed Arteris FlexNoC IP for use in its next generation of IoT chipsets.
Sequans is a pioneer in bringing wireless broadband connectivity to consumer devices connected to the IoT. Tight integration of low-power LTE communications capability into these devices will help enable a new generation of cloud services.
Critical to Sequans' decision to license Arteris FlexNoC was the need for a short development schedule and fast time to market. In addition to its low power advantages, FlexNoC's integrated automation capabilities allow the Sequans engineering team to quickly define their SoC interconnect connectivity and performance requirements, explore and optimize candidate architectures, and verify the resulting hardware design.
"Arteris FlexNoC's development efficiency benefits give us an advantage over our competitors because we can get our product to market sooner with more features and at a higher quality level," said Bertrand Debray, COO and founder of Sequans.
"We are excited that Sequans chose Arteris after a thorough evaluation of all the options," said K. Charles Janac, President and CEO of Arteris. "Sequans' choice of FlexNoC is a vote of confidence in the quality and flexibility of Arteris' solution."
About Arteris
Arteris, Inc. provides Network-on-Chip interconnect IP and tools to accelerate System-on-Chip semiconductor (SoC) assembly for a wide range of applications. Rapid semiconductor designer adoption by customers such as Samsung, Altera, and Texas Instruments has resulted in Arteris being the only semiconductor IP company to be ranked in the Inc. 500 and Deloitte Technology Fast 500 lists in 2012 and 2013. Customer results obtained by using the Arteris product line include lower power, higher performance, more efficient design reuse and faster SoC development, leading to lower development and production costs. More information can be found at http://www.arteris.com.
Arteris, FlexNoC and the Arteris logo are trademarks of Arteris. All other product or service names are the property of their respective owners.
###