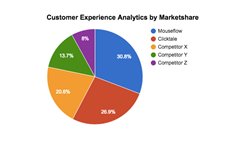 Seattle, Washington (PRWEB) July 07, 2015
Mouseflow, a website analytics tool that replays visitor sessions and generates behavioral heatmaps, is now the industry leader by number of active installations. In this position, Mouseflow has overtaken ClickTale®, a venture-backed company with $60M in funding, without any outside investment itself.
"It's an exciting time for all of us. We focus on converting new and existing customers to become loyal fans of our product. We are about to launch a new user interface that will raise the bar, expand our position, and bring about dozens of new opportunities," says Lasse Schou, CEO of Mouseflow.
About Mouseflow:
Mouseflow is a website analytics tool that lets users replay visitor sessions and see heatmaps showing where visitors click, scroll, and pay attention.
The company was founded in 2009 by Lasse Schou, in Copenhagen, Denmark, and quickly rose to become a powerful player in analytics.
After running a web agency for almost a decade, Lasse Schou decided to start Mouseflow. He saw a need for a tool that would meet the growing demand for modern analytics, but at an affordable price. His vision was to help clients understand the people behind the numbers - demystifying complex data and making it accessible to everyone. In the short period after its launch, Mouseflow gained immediate traction throughout the analytics and marketing space.
Today, Mouseflow has over 45,000 clients including Philips, Samsung, Virgin, Intuit, Sears, Pepsi, AT&T, Autodesk, Microsoft, Vodafone, Accenture, Deloitte, Telefonica, Bosch, Trend Micro, Opel, and more. Mouseflow has offices in United States, Denmark, Germany, and the Netherlands. To learn more, visit h​ttp://mouseflow.com, ​call +1 (855) 668-7335, or email h​i(at)mouseflow(dot)com.​
All logos, trademarks, and registered trademarks are the property of their respective owners which do not sponsor or endorse Mouseflow or this press release.