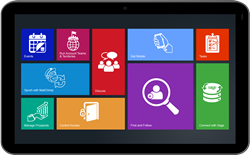 We are enabling Sage 50 users to access best of breed cloud apps
Buford, GA (PRWEB) July 07, 2015
In this Hangout on Air attendees will learn about the upcoming release of Suntico's new connector technology and what that means for companies using Sage 50 2016 (US Edition).
Suntico's new cloud connector technology for accounting software opens up new possibilities for powerful web and mobile applications to interact with the Sage 50 data.
Suntico's own app is an exciting new online account management solution that uses a Facebook-like social interface to support sales reps and their interactions with customers and head office.
A web services application program interface (API) will enable developers to create and connect their own applications that use or update the Sage 50 data.
"We are enabling Sage 50 users to access best of breed cloud apps." says Hugh Johnson, Senior Vice President of Business Development at Suntico. "The most valuable work in a small business starts or ends in the accounting software," continues Hugh. "Having productivity apps that can interact with your Sage 50 data just makes so much sense."
The event is free to join and will last fifteen minutes. It will be available online afterwards for anyone that was unable to attend.
About Suntico:
Suntico is an online platform to address the multi-trillion dollar productivity gap in small to medium sized businesses employing 10 to 100 people.
Suntico includes a Facebook-like online account management solution and is currently available for Sage 50 Accounting US (formerly Peachtree), Sage 50 Accounting Canada (formerly Simply Accounting), Sage 50 Accounts in the UK and Ireland, and Sage One (Ireland and UK). It will shortly also be available for QuickBooks desktop edition.