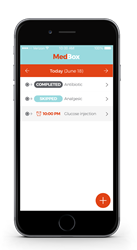 We're on a mission to reduce the frightening regularity of emergency room visits and cut ballooning healthcare costs
San Francisco, CA (PRWEB) July 30, 2015
MedBox, a new mHealth app for iPhone and Apple Watch, aims to considerably reduce emergency room visits and preventable fatalities caused by medication misuse.
As only 50% of patients correctly follow their medication regimen (acpm.org), the mobile app makes it easy for patients to remember to take medicine as directed. Push notification reminders are automatically sent to a patient's iPhone or Apple Watch, prompting them take their medication at the right time each and every day.
"Using smart mobile technology we're on a mission to reduce the frightening regularity of emergency room visits while also cutting preventable healthcare costs," said, MedBox creator, Marc Fischer.
MedBox was designed with patients and caregivers in mind. Medical care features include:

Create medicine calendar schedules and easily set reminders
Control frequency, dosage, time and date schedules
Receive automated push notification reminders for iPhone and Apple Watch
Add unlimited Rx medications and dosage reminders
Capture photos of each pill or medication for easy reference
According to the National Institute of Health, $300 billion in medical expenses occur every year due from patients experiencing complications as a result of failing to comply with their medicine-schedule. MedBox seeks to provide enhanced healthcare services while simultaneously reducing the financial burden for families, medical insurers, and healthcare providers.
Company Information:
MedBox is an mHealth solution created by the mobile app development firm Dogtown Media.
The company was founded by a team of iPhone app developers focused on building innovative mobile technology to solve real-world problems. Core competencies include Apple Watch App development for the healthcare industry. Interested parties are invited to submit email queries to contact(at)dogtownmedia(dot)com, or visit the Dogtown Media website for more information.