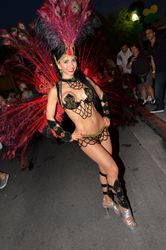 Fire Works at Brazilian Outdoor Festival in Las Vegas
Las Vegas, NV (PRWEB) July 22, 2015
The Brazilian Independence Day is being celebrated every year all across Cities in Brazil and all around the United States like New York City, San Diego and Los Angeles. Millions of people every year celebrate this special Day in NY. This September 20 2015 Via Brasil Steakhouse is bringing this celebration to Las Vegas.
This event will take place at Fort Apache Common Shopping Center on 1225 S. Fort Apache Road Las Vegas Nevada 89117 on September 20 2015 from 4pm to 10pm. Just like in 2013 they are expecting over 5000 people to come to the event. In 2013 there was 500 children and 5000 Adults that celebrated the event with them.
You can expect this event filled with fun and excitement

Brazilian Traditional Food
Alcohol Vendors,
-American Food
-Fire Works
-Brazilian live bands,

-Samba dancers,
-Capoeira performers,
-Fire dancers and breathers,
-Stilt walkers
-Brazilian Parade
-Free fun activities for children such as face painting and bouncing houses.
-Games
There will be something great for everyone no matter what age group they are. This Outdoor Festival is not like any other festival you have seen in Las Vegas.
Via Brasil Steakhouse is doing everything about this event extraordinary.
Children 12 years old and under enter the event at no charge. All visitors who purchase tickets from Via Brasil will receive a $20 dining card for Via Brasil Steakhouse Rodizio Dinner.
Brazilian Outdoor Festival Information
Date: September 20ty 2015
Location: 1225 S. Fort Apache Rd
(Between Charleston Blvd & Fort Apache Rd. )
Las Vegas, NV 89117
Hours: 4PM to 10PM
Phone: (702) 804-1400
Email: anna(at)viabrasilsteakhouse(dot)com
For more information please visit http://www.viabrasilsteakhouse.com
About Via Brasil Steakhouse:
Via Brasil Steakhouse is located at 1225 S. Fort Apache Road, on the southwest corner of Charleston Boulevard and Fort Apache Road. This Brazilian Churrascaria is open seven days a week. For reservations or more information, please call 702-804-1400 or visit http://www.viabrasilsteakhouse.com. Also follow us on Facebook and Twitter @viabrasilsteakh.
Media Contact:
Anna Gomes
702-804-1400
anna(at)viabrasilsteakhouse(dot)com
http://www.viabrasilsteakhouse.com