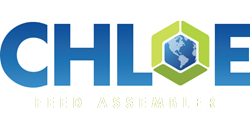 CFA creates your feed from on-page, in-code, and in-JavaScript information to 'auto-magically' distribute your affiliate program product data feed to your network via ftp, email, or web browser. It's all done without IT resources.
Coeur d'Alene, Idaho (PRWEB) July 09, 2015
Datafeed creation can be a frustrating process. Most development teams cringe at the request. But now datafeed creation is possible without any tech resources, thanks to ChloeWorks' new tool, Chloe Feed Assembler (CFA). CFA is a web extractor/site scraper that crawls any retail website, gathering product data and assembling that data into a feed for all major US and international affiliate networks.
Simply sign up and request a feed. Chloe Feed Assembler then crawls the requested site on the designated days, assembles the data, cleans it, and exports it to the network(s) chosen, including Linkshare, ShareASale, AvantLink, Impact Radius, Google, and many other networks. CFA can crawl an unlimited number of products and schedule recurring feed creation in advance.
"With Chloe Feed Assembler, you no longer need to bribe, coerce, or harass your development team to create and export a product datafeed for your affiliate program. CFA creates your feed from on-page, in-code, and in-JavaScript information to 'auto-magically' distribute your affiliate program product data feed to your network via ftp, email, or web browser. It's all done without IT resources or access to secure databases. It's quick, easy, and highly effective," says Jamie Birch, CEO and Chief Debugger, ChloeWorks.com (from the same team as JEBCommerce).
Got questions? Take a few minutes to visit the Chloe Feed Assembler website (http://www.chloeassembler.com). Check out the blog too for several great, helpful articles on topics such as: "Do I have to map the fields?" "Will my IT team know that we are creating a feed and will there be any bandwidth draw?" And more…
Chloe Feed Assembler is now live and taking clients.
ChloeWorks began in 2008 as the result of a simple question: "How can we tell what our employees are doing and what activities lead to success for them, our company, and our clients?" The modules, tools, and interface created are now known as ChloeWorks. We continue our focus on efficiency by designing, creating, and offering online tools to businesses – large or small – that allow you to be more effective, efficient, and ultimately…more profitable.