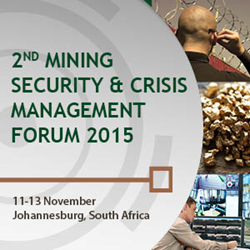 It's an IRN Summit!
London (PRWEB UK) 8 July 2015
2015 has seen a spike in xenophobic violence in South Africa and this has led to increased security concerns and measures across the public and private sector, including the mining industry. Cybersecurity has also reached a leading position in the charts this year when it comes to business risks the mining sector is facing; 42 per cent of mining and metals companies have no intelligence program in place for hacking threats and another 35 per cent have only informal measures.
Illegal mining, cyber-crime, workplace violence, fractured labour relations and theft of equipment affect the way the mining industry assesses investment opportunities. Those were some of the topics that emerged frequently during the first edition of the Mining Security and Crisis Management Forum that took place in November 2014, stressing the need for larger international cooperation to combat security problems in the mining industry.
The second edition of the Forum, a three day Conference and workshop taking place on November 11th-13th 2015 in Johannesburg, will address:

Criminal syndicates
Latest technologies for the security industry
Insider threat
Illegal mining
Organisation's responsibility and loyalty culture Union strikes from a non-violent approach
Cyber-crime
Corporate Social Responsibility policies
Crisis preparedness and training
Disaster management plan
Disused mines and ways to outsource reliable security service providers
The confirmed speaking panel includes representatives from Antwerp World Diamond Centre, AngloGold Ashanti, Lonmin Process Division, South African Institute of Security, Diamond Trading Company Botswana, Debswana Diamond Co. Botswana, Petra Diamonds South Africa, Sierra Rutile Limited, Adamus Resources, Vale Mozambique/Malawi, Anglo American South Africa, Temi Group, Department of Military Veterans and Reutech Radar Systems, to name but a few.
More information about this forum is available on the website: http://www.miningsecurityforum.com