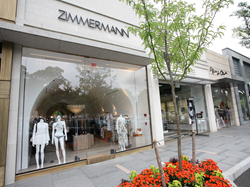 Manhasset, New York (PRWEB) July 09, 2015
Zimmermann's new 1,100 square foot space at Americana Manhasset houses a large selection of the brand's ready-to-wear offerings as well as key pieces from the swim collection. Designed by Meacham, Nockles Macqualter, the store's fresh, modern aesthetic is all Zimmermann. With neighbors such as Hirshleifers, Rag & Bone, and Chanel, Zimmermann's mix of whimsical ready-to-wear and swim is a perfect addition to Americana Manhasset's retail landscape.
"The new Zimmermann boutique fulfills our customers' desire for fresh, sophisticated style. Americana Manhasset welcomes this exciting addition," notes Deirdre Costa Major, President Americana Manhasset.
Sisters Nicky and Simone Zimmermann founded the ready-to-wear and swim brand in Sydney in 1991 and it has grown to be one of the largest, most successful fashion houses in Australia. Since expanding into the US market, Zimmermann won an immediate, loyal following among fashionable tastemakers. Zimmermann is one of the first brands to fuse fashion with swim and is revered for its sophisticated femininity, clever color combinations and delicate, original prints.
"I've been looking forward to opening a store at Americana Manhasset since my first visit many years ago. For our new store, we wanted to create a space that felt fresh, optimistic and intimate and reflected our casual, Australian inspired aesthetic. The store houses our full Swim and Resort collections for the summer and a great edit of our ready-to-wear that we can bring to our local clients. I really love how the store has turned out- it's very Zimmermann." – Nicky Zimmermann, founder and creative director, Zimmermann.
On the evening of July 28th, co-founder Simone Zimmermann will visit from Sydney to host a cocktail party in celebration of the new store. Zimmermann will donate a portion of the evening's proceeds to the Columbia University Student Emergency Fund.
Americana Manhasset is a premier collection of over 60 fine shops, including Hermès, Dior, Prada, Louis Vuitton, Gucci, Loro Piana, Chanel, Ralph Lauren, Ermenegildo Zegna, Cartier, Bottega Veneta, Hirshleifers, London Jewelers and more, all within a unique outdoor environment designed by renowned architect Peter Marino and landscape designer Oehme van Sweden. Americana Manhasset offers a complimentary Personal Shopping Service, a remarkable luxury fashion and gift resource. Located on Long Island's beautiful North Shore, Americana Manhasset is 20 miles from Manhattan and 50 miles from the Hamptons.
For more information, please visit http://www.americanamanhasset.com.
Follow Americana Manhasset on Instagram, Twitter, and YouTube, like our Facebook page and check out our Blog!