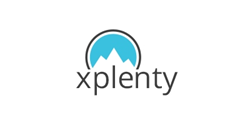 San Francisco, CA (PRWEB) July 08, 2015
Xplenty, the data integration platform that makes it easy to process more data more quickly, today announced its newest offering, Analytics-as-a-Service or "A3S." This latest addition to Xplenty's extract, transform and load (ETL) software enables users to query and analyze data directly on Amazon Simple Storage Service (Amazon S3™).
A3S provides Xplenty users with the capability to use Amazon's object-based storage repository (Amazon S3) on the cloud to quickly access the data through SQL or any other Business Intelligence (BI) or reporting tool. Xplenty AS3 users can also look forward to:

Quick and Easy Querying: Paired with the ability to leverage SQL, through Xplenty A3S, data is cached locally and features columnar storage that can be used for simple and quick queries.
Scale: A3S provides data professionals with scale they need, working as powerfully for small data as it does for large data.
Affordability: Xplenty's simple pricing models enables organizations to only pay for what they need, when they need it. However, data and schema stay intact regardless, providing businesses with access to an incredibly efficient and cloud-based data lake without the prohibitive cost.
Compatible with Existing BI Infrastructure: A3S seamlessly integrates with any BI or reporting tool, meaning data people do not need to reorganize their current BI ecosystem.
Syncs with Xplenty's ETL: As part of Xplenty's ETL service, data professionals can prepare the data they need through its easy-to-use coding free service before storing it on Amazon S3, making data preparation simpler and faster than ever before.
"Data preparation needs to be made as comprehensive and easy as possible so that businesses can get the insights they need at a drop of a hat," says Yaniv Mor, CEO and co-founder of Xplenty. "A3S gives users the benefits of incredibly cost-effective interactive querying capabilities on top of the Amazon S3 data lake on the cloud. The addition to Xplenty's service not only improves users processing capabilities, but also underscores our dedication to a hassle-free data preparation environment that can tackle a vast array of tasks for businesses of all sizes."
Xplenty streamlines every aspect of data integration, reducing time spent and allowing businesses to focus on insight over preparation. Available on the cloud, and accessible to every company, Xplenty is completely scalable across an organization, ensuring big data insight without having to invest in hardware, software or related personnel.
For more information about Xplenty, please visit http://www.xplenty.com.
About Xplenty
Xplenty's data integration platform allows organizations to make raw data "analytics-ready" for analytics on the cloud. From integration to processing to preparation, Xplenty shortens "time-to-insight" to bring immediate answers to the entire organization about their data. With Xplenty, every data-driven company can derive insight from raw data, from the cloud or on-premise. With a zero-coding required environment, organizations can integrate data from varied data sources to get a complete overview of their business. To learn more or to sign up for a 7-day free trial, please visit http://www.xplenty.com and follow us on Twitter.