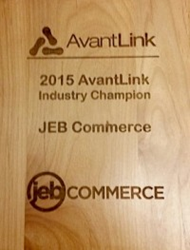 JEBCommerce continually sets the bar on just how much of a positive effect agencies can have in the industry.
Coeur d'Alene, Idaho (PRWEB) July 09, 2015
We are honored and excited to announce that JEBCommerce received the AvantLink Industry Champion Award for 2015! It's been an amazing year at JEBCommerce, and the industry continues to notice our incredible team's hard work.
The AvantLink Best of 2015 Award winners were announced at AvantExpo 2015 in Park City, Utah. The 'Industry Champion Award' goes to a merchant, affiliate, or agency that has a proven track record of doing all that's possible to make affiliate marketing a better channel in every facet of their day-to-day operations.
"With a focus on understanding actionable attribution, brilliant in-house tools that help new merchants integrate quickly with networks, and high-value external affiliate recruitment strategies, JEBCommerce continually sets the bar on just how much of a positive effect agencies can have in the industry." – AvantLink Best of 2015 Awards
"We couldn't be more proud to be awarded this amazing honor. AvantLink has been a fantastic partner for many many years and it is a privilege to continue to create fantastic affiliate programs with the AvantLink team. Their leadership in the space and their amazing tools are such a huge driving force for advertisers' and affiliates' growth. We are just too excited for words and can't wait to hang this award in our office! Thank you Chad, Scott, Scott and the rest of the AvantLink team!" – Jamie Birch, CEO JEBCommerce
We've launched quite a few new programs on the AvantLink network this year, including Eastern Mountain Sports, Bob's Stores, and Sport Chalet. A few months ago, we had the privilege of hosting AvantLink at "JEBComm's World Headquarters" so they could gain an understanding of our operation. We were able to introduce them to our Chloe Feed Assembler– our new datafeed assembler product, which helps streamline the integration process for new clients and provides outstanding datafeeds with no technical resources required. We enjoy working with AvantLink and hope to see continued growth over the years!
Located in the beautiful city of Coeur d'Alene, Idaho JEBCommerce is an award winning, innovative, affiliate marketing agency that specializes in performance marketing and creative services. Since 2004, we have served both large and small organizations with a heavy focus on customer acquisition through performance marketing channels. Our team has been launching, managing, and growing affiliate programs for over 20 years.