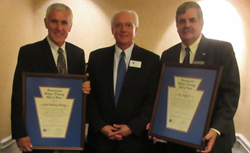 Gettysburg, PA (PRWEB) July 10, 2015
The Pennsylvania Athletic Trainers Society (PATS) Annual Conference was held in Gettysburg at the Wyndham Hotel and Resorts from June 10-13. Over 400 attendees enjoyed the golf, exhibits and educational programming.
AJ Duffy, III (Widener University) and John Norwig (Pittsburg Steelers Football Club) were inducted into the Pennsylvania Athletic Training Hall of Fame. Roberta Simmons (Pennridge High School) received the PATS Distinguished Merit Award. Elizabeth Evarts (Central Mountain High School), Greg Janik (King's College) and Kimberly Stoudt (Alvernia University) were given PATS Service Awards. The PATS Team Physician Awards were given to Dr. James Masterson, DO and Dr. Michael Rogal, MD.
The PATS five scholarships were awarded to: Allison Garner (King's College) – Philip B Donley Scholarship; Thea Lucas (University of Pittsburgh) – PATS Inc. Scholarship; Rebecca Dubas (West Chester University) – NATA District 2 Joe Iezzi Scholarship; and Michael Thomas (University of Pittsburgh) – Richard M. Burkholder Scholarship; while Kelsey Rynkiewicz (King's College) received the Cecilia Yost Scholarship Award.
The PATS Executive Board will see several changes including Jamie Mansell (Temple University) taking the reins from David Marchetti (King's College) as Treasurer. Kathy Wright (Ursinus College) saw her second term end as Southeast Representative while Shelly Dicesaro (California University of PA) was re-elected as Southwest Representative after filling the position this past year due to an Executive Board vacancy.
The Keynote Moyer Lecture was presented by Dr. Freedman. The Undergraduate Original Research was won by Anthony Alimenti (Duquesne University). His title was "Occlusion Training Increases Strength and Hypertrophy in Collegiate Male Collision Sport Athletes: A Critically Appraised Topic". There was a tie for best poster in Undergraduate Case Study category. Cody Lancellotti of King's College and Kelsey White of Messiah College case study tied with their research titles "Pigmented Villonodular Synovitis in a 19 Year Old Collegiate Football Player" and "A Labral Tear and Full-Thickness Suprapinatus Tear in a Collegiate Wrestler" respectively. The Ninth Annual PATS Quiz Bowl was won by Messiah College (Marybeth Bondel, Mark Engle, and Kelsey White). The Pennsylvania Athletic Trainers' Political Action Committee (PAT-PAC) also held a pint night social in which they "roasted" AJ Duffy in order to fundraise for the PAT-PAC.
Next year's symposium will be held June 2-4, 2016 at the Holiday Inn Harrisburg/Hershey in Grantville, PA.
For more information regarding this topic or to schedule an interview with PATS President John Moyer LAT, ATC, please contact Linda Mazzoli MS, LAT, ATC, PATS Executive Director at patsexecutivedirector(at)gopats(dot)org
The Pennsylvania Athletic Trainers' Society, Inc. is a progressive organization of licensed health care professionals who work under the direction of a licensed physician. Our society continues to increase public awareness and education regarding Athletic Trainers and the Athletic Training profession while serving as the premier source of information for public safety, injury and illness prevention, early intervention, patient care, and healthcare delivery for the physically active in the Commonwealth.
"The Keystone to a Healthy and Physically Active Life"