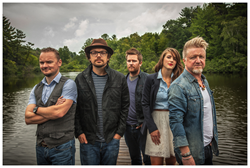 We are excited to present another fun-filled weekend of Irish culture, food, music and sports.
Waterloo, Iowa (PRWEB) July 13, 2015
The ninth annual Iowa Irish Fest, sponsored by Veridian Credit Union, will open Friday, July 31, and run through Sunday, Aug. 2, at Lincoln Park and the surrounding streetscapes of downtown Waterloo. From international performers and Gaelic art to traditional Irish food and an Irish wedding, the 2015 Iowa Irish Fest has it all. Kicking off with a parade at 4 p.m. Friday, Iowa Irish Fest will permeate downtown Waterloo with the sights, sounds and flavors of Irish heritage.
"We are excited to present another weekend of Irish culture, food, music and sports—including a rugby tournament---during the 2015 Iowa Irish Fest," said Chad Shipman, Iowa Irish Fest director. "The rugby tournament is a great new addition to the festival. We anticipate the tournament will bring even more people to the Cedar Valley to experience Irish culture."
Six downtown stages will host dozens of local, regional and international performers, cultural education seminars, kids' contests and more. The Nagle Stage on Park Avenue will feature the headliner shows. More traditional acts will perform on the Lincoln Savings Bank Stage at E. 4th and Lafayette Streets. A third music stage will be inside Jameson's Public House on E. 4th Street. The Wells Fargo Cultural Events Center Stage will be located at the northeast corner of Lincoln Park. Additional cultural activities and Irish whiskey tastings will occur inside the Elks Club. The family area Life 101.9 stage will be located at E. 4th and Mulberry Streets.
Iowa Irish Fest staple Gaelic Storm will be back, along with a crowd favorite, the Trinity Irish Dancers. The Elders and the Screaming Orphans will join Gaelic Storm as the three headliners for the weekend.
Gaelic Storm will perform at 10 p.m. Saturday and at 4:30 p.m. Sunday on Nagle Stage. They balance tradition with modern influences to create a blend of Celtic rock and folk. Their innovative sound has landed them on top of the Billboard World Chart four times. With 10 albums and nearly 3,000 live performances under their belt, it's no wonder Gaelic Storm made Full Irish, their greatest hit album. Gaelic Storm will release their latest album, Matching Sweaters, on July 24, and it will be available for fans at the Iowa Irish Fest. Gaelic Storm performances are brought to the Iowa Irish Fest by sponsor VGM and Associates.
"We love having Gaelic Storm come and perform," said Doug Larrabee, entertainment chair. "They certainly have developed a following at Iowa Irish Fest. Attendees enjoy Gaelic Storm's high energy, stage presence and the fun ways they turn attendees into participants during their performances."
Also headlining this year's festival are international touring artists, The Elders. This six-man band's ability to bring together the art of storytelling and elements of progressive and traditional Celtic music has won them a broad international fan base. They will perform at 9:30 p.m. Friday and 8 p.m. Saturday on Nagle Stage.
The Screaming Orphans, a band of four sisters from Bundoran, Ireland, are headlining all three days of the festival. They will perform at 5:30 p.m. Friday and 2:30 p.m. Sunday on Nagle Stage, and at 6:30 p.m. Saturday on the Lincoln Savings Bank Stage. The sisters grew up singing traditional Irish music before deciding to start their own pop rock band when they were teenagers.
This year, Iowa Irish Fest will expand the sports offerings beyond the Highland Games and annual 5k to include the first annual Iowa Irish Fest Rugby Invitational, 10 a.m.- 4:30 p.m. Saturday at the East High School practice field, located two blocks from the festival grounds at 214 High Street. All players receive a weekend pass to the festivities, as well as discounted passes for their friends and family. The winning team will receive jerseys, a trophy and a cash prize.
The weekend will also include:

Irish cultural events and storytelling performances
An Irish wedding, Friday night at the Wells Fargo Cultural Events Center Stage (first wedding ever hosted at Iowa Irish Fest)
Soda bread and Irish Stew competition
Variety of food vendors offering traditional Irish and American favorites, with Jameson's Public House featuring a traditional Irish breakfast Sunday morning
Whiskey tastings, ancestry workshops, Sunday brunch and the Gary Kelly festival art unveiling at the Elks Club
Irish Fest merchandise, kilts and Irish heritage items for sale
Highland Games, 5-8 p.m. Friday (demonstration) and 10 a.m.-8 p.m. Saturday
Fifth annual ShamRock N Run 5k walk/run, 9 a.m. Saturday
Family fun area with inflatable amusements, face painting and kids' contests
Outdoor Mass, 10 a.m. Sunday
The annual Iowa Irish Fest is organized by the Cedar Valley Irish Cultural Association, an organization intended to foster and develop Irish fellowship and outreach into the community with Irish cultural events and programs. Iowa Irish Fest 2015 will run from July 31-Aug. 2. Admission is $15 for all three days, and children 12 and under are free. For more information or to volunteer, visit http://www.IowaIrishFest.com. Click here to purchase online tickets: http://iowairishfest.ticketmob.com/event.cfm?cart&id=101755
###