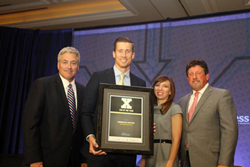 Derrick brings a unique energy and passion, ensuring employee happiness, customer satisfaction, and core values remain at the forefront of our organization. -Vess Pearson, President
Salt Lake City, UT (PRWEB) July 13, 2015
Utah Business Magazine announced CCO Derrick Royce of Alterra as a CXO of the Year honoree. Derrick was among a group of C-level executives that Utah Business recently honored who have made an extraordinary impact in their organizations and demonstrated innovation, prudent risk-taking and strategic thinking. The award was presented at a special awards event at The Grand America Hotel on June 25, 2015.
The CXO of the Year awards are given to senior executives for outstanding performance in their roles. The selected CXOs demonstrate the importance of providing strong financial leadership, visionary innovation as well as social responsibility to Utah businesses. Each of the CXO honorees was featured in the June issue of Utah Business magazine.
"We are proud to have Derrick as the backbone of the Alterra culture. He brings a unique energy and passion, ensuring employee happiness, customer satisfaction, and core values remain at the forefront of our organization. Derrick's influence encourages others to go above and beyond in delivering memorable experiences in every customer interaction. His cultural improvements have led to Alterra's atmosphere of customer commitment and fun." – Vess Pearson, President
About Alterra
Founded in 2012 and having expanded into more than 1,100 cities, Alterra has mastered its mission of responsibly protecting families and the environment. Alterra differentiates itself from competitors by utilizing the most progressive products while maintaining high environmental standards, and is a proud member of the EPA's Pesticide Environmental Stewardship Program. Alterra was recognized as 19th largest pest control service in North America by PCT Magazine's Top 100 in 2015 and ranked the #1 fastest growing pest control company in North America. Alterra also has partnered with the United Nation's nonprofit Nothing But Nets, and dedicates a portion of company profits annually to send insecticide-treated bed nets to help save the lives of millions from malaria in underdeveloped countries.