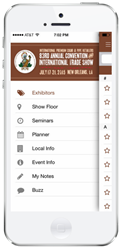 Columbia, Maryland (PRWEB) July 13, 2015
The International Premium Cigar & Pipe Retailers Association (IPCPR) is pleased to offer the ChirpE mobile app solution, powered by a2z, Inc, to attendees of the 83rd Annual Convention and International Trade Show – an annual event for the premium tobacco industry. This event will take place July 17-21, 2015 in New Orleans, LA.
The ChirpE mobile event app offers a powerful platform with on-the-go access to the complete conference schedule, event announcements, and social media posts – all in real-time and synced with the event website – providing for an enhanced experience.
The planner feature within the event app offers attendees an efficient way to manage their time at the tradeshow – making for a productive yet enjoyable experience. App users can search for exhibitors by keywords or categories and add preferred exhibitors to the planner. In addition, app users can search for their favorite seminars as well as take notes during their meetings or sessions – all of which are accessible within the mobile app. The IPCPR 2015 mobile app is available for iPhone/iPad and Android phones as well as all Internet-enabled smart phones.
The IPCPR 83rd Annual Convention & International Trade Show is a five-day event providing tobacco industry professionals the best opportunity to select high quality products and discover the new and exciting merchandise from top manufacturers. Attendees will also get the latest on industry standards for upcoming trends and new releases as well as information about IPCPR's continuing efforts to support the industry and its membership through innovative programs and services, legislative advocacy and industry- specific goals and objectives.
For more information about the tradeshow, please visit http://www.ipcpr.org
About a2z
a2z, Inc. provides powerful web-based event management tools that grow your show by increasing and accelerating booth sales, helping boost revenue, and enhancing engagement and value for everyone. Our clients benefit from increased connectivity with their audience via an improved website for their attendees and exhibitors and both web-based and native mobile app solutions. To fulfill our goal of developing quality solutions that help save money and meet your needs, a2z offers three platforms as one integrated solution: Expo & Conference Management, Networking & Lead Management, and ChirpE Mobile, which includes our web-based and native mobile apps for smart phone and tablet devices.
About IPCPR
The International Premium Cigar & Pipe Retailers Association (IPCPR) is the oldest, largest and most active trade association representing and assisting premium retail tobacconists and their suppliers. IPCPR is a not-for-profit trade association organized as the advocate for the independent retail tobacconist and recognized as the "Voice of Authority and Reason" on premium tobacco related issues. IPCPR provides its members with assistance to fight draconian and onerous tobacco legislation, and brings retailers and manufacturers together in mutually advantageous business relationships.