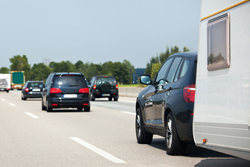 83% of respondents describe themselves as 'safer' or 'much safer' than other road users
London, UK (PRWEB UK) 5 August 2015
Caravan insurance specialist, Shield Total Insurance, has published the results of a recent online survey investigating 400 UK caravan and motorhome owners' attitudes and behaviours in relation to road safety. The poll was conducted in light of a recent report by road safety charity Brake, which found that many road users have a tendency to overestimate the safety of their own driving and blame others for dangers on the road, while often disregarding traffic laws themselves.
Caravan/motorhome owners often find themselves on the receiving end of this blame, with a recent AA survey crowning them Britain's most despised drivers, less popular than cyclists, inconsiderate parkers, dawdlers and even those blasting loud music. Shield's road safety survey reveals that these drivers in fact present a much lower risk than other road users.
The survey finds that 83% of respondents describe themselves as 'safer' or 'much safer' than other road users. With the Brake report stating this figure to be just 69% among other motorists, it's clear that the caravanning community is much more confident in their ability to drive safely.
Respondents also felt least threatened by the driving behaviour of other caravan/motorhome owners. Just over half (52%) of respondents have felt endangered by the driving behaviour of other caravan/motorhome owners within the past 12 months, whereas a shocking 87% have felt endangered by other motorists, with one in nine people feeling at risk every time they drive.
All types of unsafe driving behaviour - including distraction, tailgating, speeding, risky overtaking, changing lanes without looking properly, drifting or swerving across lanes, running red lights, road rage and poor vehicle maintenance – were seen to be significantly less common among the caravanning community. In several areas – such as distraction whilst driving (e.g. talking on a mobile phone or eating while at the wheel) – instances were nearly a third (33%) higher among other road users.
While the majority of respondents perceived their driving to be much safer than other road users, almost half (48%) still admitted to breaching traffic laws, although largely unintentionally. When compared with the Brake report, fewer caravan/motorhome owners claim to breach traffic laws than other road users. Those who do breach traffic laws also claim to do so less frequently, and cases of intentional law breaking (believing laws are wrong or unnecessary, or thinking they can get away with it) are nearly halved.
Commenting on the survey, Stuart Craig, Marketing Manager at Shield Total Insurance added: "We would like to thank everyone who responded to the survey and helped us generate some really useful and interesting results. Caravan and motorhome owners have long bore the brunt of frustration from other road users, so it's interesting to hear the other side of the story. While the findings indicate that the caravanning community takes fewer risks whilst driving – including dangerous behaviour such as speeding or tailgating – the number of respondents who admit to breaching traffic laws is still too high. It's the responsibility of every road user to behave safely at all times whilst behind the wheel, to protect yourself and all other drivers."
When you're on the road, you never know what's around the corner. With over 140,000 accidents reported on UK roads last year, a comprehensive insurance policy is essential to ensure you're fully covered should the unexpected happen.
To read more about the full set of results, please visit the Shield Total Insurance Information Centre (http://www.shieldtotalinsurance.co.uk/information-centre). For information from expert advisers on caravan and motorhome insurance, owners can visit Shield Total Insurance (http://www.shieldtotalinsurance.co.uk) and discover how much they could be saving. Join the Shield Total Insurance caravan and motorhome community via Twitter on @armadillosdo or http://www.facebook.com/shieldtotalinsurance
Ends.
For press enquiries please contact: Stuart Craig, Marketing Manager, Vantage Insurance Services - stuart.craig(at)vantageinsurance.co.uk - 01277 243130
Shield Total Insurance (formally known as Shield Direct) was established in February 1997 to become one of the first specialist caravan insurance and motorhome insurance intermediaries in Great Britain and Northern Ireland.
On 1st February 2015 Shield Total Insurance was again rated 5 stars by Defaqto for 2012-2015 for our touring caravan insurance